Happy Birthday Sis…..
Happy Birthday Sis…..
Dear Sis,
It has been almost 2 1/2 months since you transitioned out of this world – and today is your birthday.   Happy Birthday my beautiful sister – I know you are somewhere, filled and surrounded by so much love.   I truly believe that.
I honestly don't even know where to begin.  I have so many emotions, stories, feelings….my journey with you from beginning to end, will always remain so special in my heart, my mind and my soul.     I am going to keep on writing to you 🙂 Just because you are not physically here anymore, doesn't mean you can shut me up lol there are actually many reasons why I will continue blogging to you…
I love telling stories because when I do, I feel close to you.   You and I always had a story to share or a bitch to talk about 🙂 I also love connecting with people and keeping it real.   Writing to you keeps your memory alive.  For me it is becoming my blog of "life experiences".     I am hoping that these stories will be stories that Jenna (and your kids) may revisit one day.  I also do not want to give up my domaine name.   Because for us, laughter really was the Best Med.
Karen, over the last couple of months,  I always enjoy when someone shares a story about you.    You touched the lives of so many people.  I remember at your 50th birthday party – 140 people showed up –  wanting to capture a few moments with you.  From across the room I watched… you were sitting in your wheelchair – centre of the party – unable to speak – and what I saw were people lined up waiting to visit with you.  I took in every single minute of that moment.  I loved watching the connections.  It was beautiful.
When I returned home to Vancouver Island, I had friends / family members reach out to me.  Many stories were shared.   I love the story that Wendy (our cousin's wife) told me.  She said,  "Kathy I will never forget the time – it was 7 or 8 years ago – we the "West Coast family" all got together at Auntie Joyce's house for Christmas.  You walked in saying to us all that you had an update about Karen who was living in the hospital at that time."  She said," I thought for sure  you were going to tell us she passed away.  But instead, with a big smile, you said, SHE'S ENGAGED !!" Of course to JP, the wonderful man you met while in the hospital.
I recall a time when Auntie Barbara and Lynn were visiting from Montreal.   We were all in your kitchen having a cocktail – I think we spent most of our visits in your kitchen with a cocktail 🙂 You went into the garage to get something and all I heard was a crash.  This was at the beginning stages of MSA.  You often lost your balance.  It was so heartbreaking to see you fall all the time.   I quickly ran over, opened up the door and there you were, lying right on your ass in the middle of a bunch of recycle bottles with your arm straight  up in the air holding your glass of wine.  You were so proud of yourself and you said, "It's all good, I didn't spill a drop!!"  Of course we all cheered – when it would have been so easy to cry.
There was a time Karen, when you were starting to lose your speech, the occupational therapist at the hospital tried to connect you to an electronic message machine where you would select – via your finger – different letters to form a sentence in order to communicate.   "I need to go to the bathroom.  I need to brush my teeth.  I am hungry."  When we were testing these you kept trying to say something.  All 3 or 4 of us in the room were trying to make out what you are wanting to say and we suddenly realized it was, "please."   You were wanting the OT to add "please" at the end of each sentence.  "I need to go to the bathroom please."  "I need to brush my teeth please."  That is who you were Karen.  Kind.
As you know our brother made all the arrangements to have a wake where we were able to view your body.   Yes this is a Catholic tradition and just for the record I do not want to be "viewed" when I am no longer in my body, just saying 🙂 I will say Karen,  I was truly grateful that I was able to see you one more time.   You looked so much like mom.  So beautiful.  And peaceful.  A moment that will stay with me forever was when Chris the Funeral Director asked, "I am now going to close the casket.   Does anyone want to come forward and assist with closing it?"  All nine of us moved forward….and we all put our hands in the centre of the casket, one on top of each other and said, "Bye Karen….Bye Bye….we love you Karen…Bye !!!"  and it shut.
At the cemetery, mom had reserved a few spots next to her plot and dad's.   As you know they were buried in a casket however you were cremated so your ashes were in a smaller urn.   As Chris, again the funeral Director, went to place your urn in the plot the hole that the site dug was not big enough !!   We were all gathered around, saying our finally goodbye's to you, we were emotional and here was Chris, trying to PUSH you into the ground lol I think it was our brother Brian who broke the "awkwardness" and said, "It is not fitting right?  The hole is not big enough ?  She just so doesn't want to go." and then we all started to laugh.   This is so you Karen, I can actually hear you, "Not fitting…I can't go." Love that sis xo
As you know I continue to receive my butterfly signs from you – thank you !!  They are not as strong as they were the first couple of weeks – that was unbelievable but believable 🙂 but they are still surrounding me.   Thank you.    As I was boarding the plane – leaving Ottawa flying home – I received this text from your daughter Samantha….
"One of my kids at work came in, in a beautiful butterfly dress yesterday.  She is one of our oldest and very independent but yesterday she kept giving me hugs all day and was very cuddly…in her big goofy butterfly dress.  Then today she was back to normal and has only given me one hug.  Definately cheered me up yesterday when I was down, like a sign from my mom, all the hugs."
Karen, I will always be there for your kids.   I am so very grateful how the final days unfolded.   Your kids will never forget those day.    It forever changed them.   In a wonderful way.   I always say, "At times you can't control what happens but you can control how you react to it."  They are taking all the love you gave them, all the memories and stories they have in their hearts and they are going to move forward with so many beautiful internal gifts because of you.
Both Samantha and Carter are already seeing the world very differently.     Samantha is now on her own.  She just moved into her own apartment.   I got to see it via FaceTime the other night.  It is perfect !!!   As she says, "It is just so me !!"   She is not wanting to date any boys for a long long time (yah right she is 21 and gorgeous) Carter is so handsome and kind.   He is working in the trades and is ready to go anywhere !!!  Actually both kids said yes when I asked them to travel the world with me for a year 🙂  but we decided let's start with Bali next March of 2022.  I want to take them to the orphanage and reconnect with some people whom I met when I was there for my 50th.   It is a special place and I am so excited for our kids to meet the world.
Karen I could keep writing but I want to post this on the night of your birthday eve.  I want people to wake up and celebrate you all day tomorrow.
Tomorrow evening, I will be raising a toast with our brother, his wife and all the kids – your son Carter is having dinner over at Samantha's tomorrow night.   During one of the last conversations I had with mom before she died she asked,"If there is one thing I want you to promise me is that you, your brother and sister will always be there for each other.  Never walk away from each other, always try to work it out."   Karen, I know that your kids will be there to support each other, always.
HAPPY BIRTHDAY YOU BEAUTIFUL SOUL.
"You may remember a beautiful face for a few days but you will remember a beautiful soul forever."
I love you and I miss you so much,
Kathy xo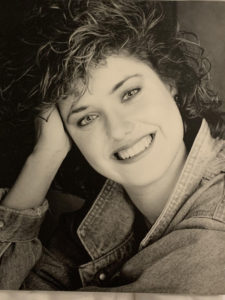 ps.  I tried finding some pics that are even new to me…we went through so many back at the house when we were all together.  I love pictures xo
These are my two favourite of the three of us….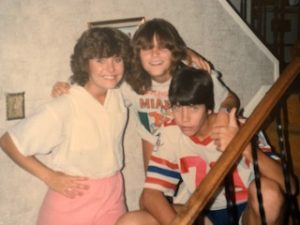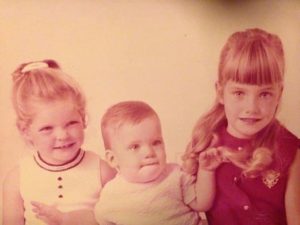 Many years ago….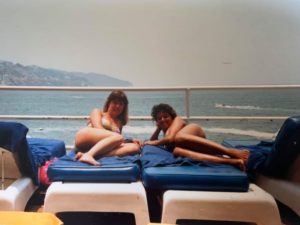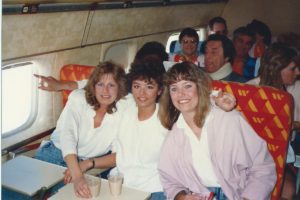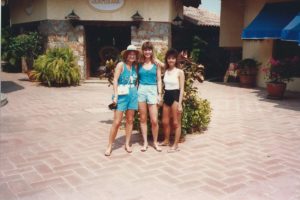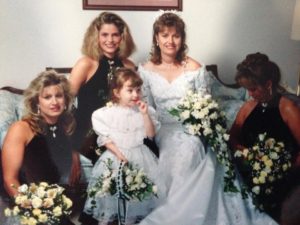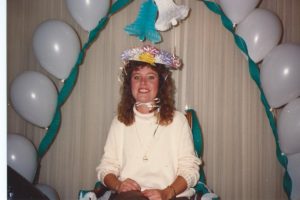 More pic from your 50th…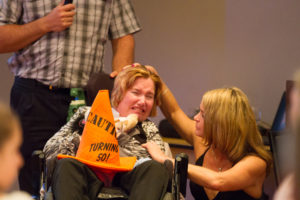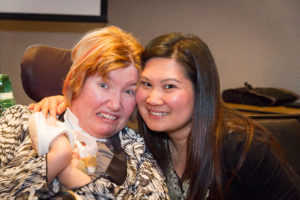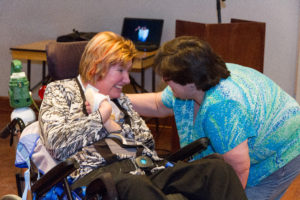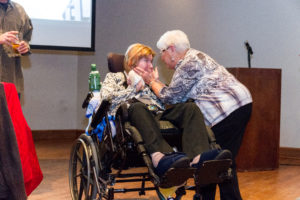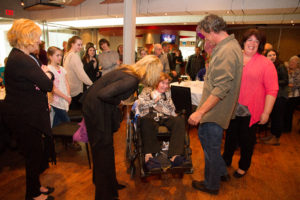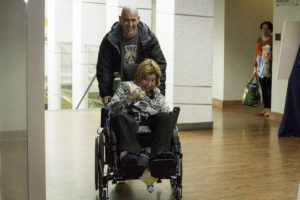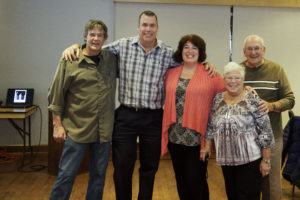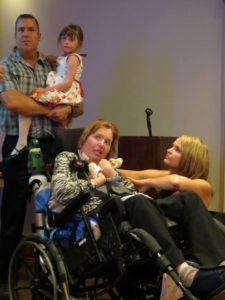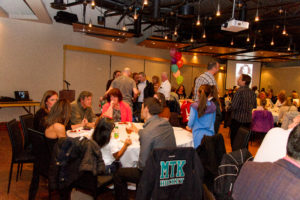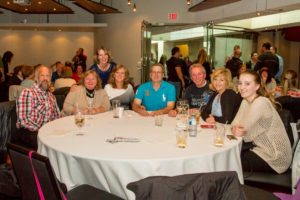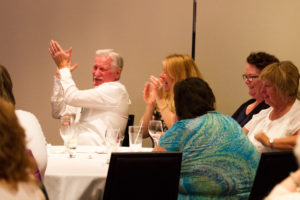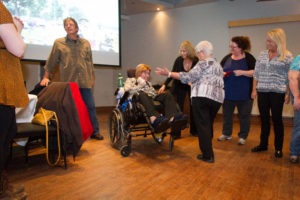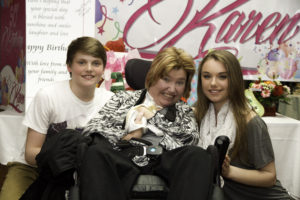 Facetiming your daughter Sam on Sunday night….it was her first night on her own in her new apartment xo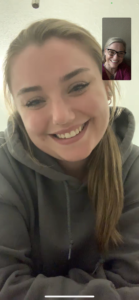 Karen our friend Susan in Ottawa sent me a text after I got home…As you know Susan supported us in so many ways.    She was very involved in this journey.    She said she walked into the dollar store to get a couple of cards to mail to the kids.  They were completely sold out of sympathy cards except for these two cards…just saying 🙂
#iamabeliever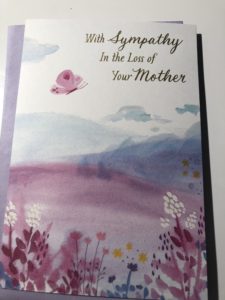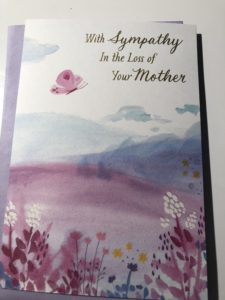 Thinking of you always…..love you sis.