We will all be ok…..
We will all be ok…..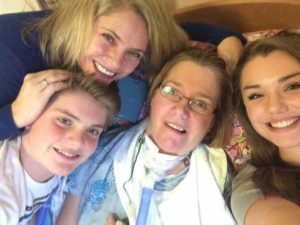 Dear Sis,
I was just looking at my site and I have 29 blogs in draft.     So as mentioned, even though you are not physically here any longer, I am going to keep writing to you ok ?  I was told to live your life doing what makes you feel good.  Who cares if someone thinks it is odd that I am writing to my dead sister lol I had to say that because it will make Brian laugh (and you too xo)  But writing to you, makes me feel good.
I miss you.  I miss you every single day.  Anytime I think of you, I can easily cry.   But not because I am sad.  Because I deeply feel so many emotions.  I have always said, "Don't you love it when you are crying because you are so full of emotions, when you are smiling and wiping away your tears at the same time and then suddenly you laugh out loud with tears streaming down your face ?  I love that.
The other day this happened to me.  I was in my home and I suddenly stopped, picked up the little urn with "you" in it, kept kissing it and told you over and over again how much I miss you.   I even said out loud, "Where the fuck are you ?  We should be together !!!"   I put down the urn and looked at a picture of you in Vegas with me for my 40th, I held some prayer beads that I got for you when I was in India and I looked at the sister statue and said, "Oh my sis, I love you so much..I miss you…I feel you…"  Through tears as I looked back and forth between the two sister's, I squinted my eyes, laughed and  said, "By the way, which one are you ?"  And I started laughing.   I had a moment.
.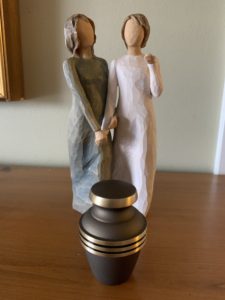 Karen, if there is a time when I do feel really sad, it is when I think of you not being able to "hang out" with your kids.    I just wanted you to know, that they are doing well.    The other night it was so wonderful when I got to share a letter with them.  It was an email that you wrote in 2007.    You were always a communicator and kept our family connected with our Aunts (Gertrude, Mildred, Muriel, Joyce, Dorothy lol those names 🙂 all the relatives / family and our many friends.   In this email you were wanting to let everyone know that your diagnosis had changed from Parkinson's Disease to Multiple System Atrophy (MSA).
You wrote about your symptoms.   Respiratory and bladder problems, vocal cord paralysis, loss of balance and that you could stop breathing in the middle of the night.  "THAT scares me." Is what you wrote.  You wrote about the prognosis of this disease and that you were going to sell your home and move into a bungalow.     The following paragraph, I found it to be quite powerful.   I loved sharing this with your kids.
"So as the saying goes….life goes on.  We have to take one day at a time and like my mother said, "live each day like it's your last." I have to for my kids.  I will continue to be strong and hopeful, although there are no trial drugs for this disease, no research being done and hardly anyone has heard of it.  It's a very unique disease, something like me, I guess….unique.   I will, however continue to look on line for more information in the states as they are a lot more advanced than we are.  I'm not a quitter.  Never have been, never will be.  I will fight and fight and fight.  The reason I have the energy to fight is because I have a loving and caring family and I have the. most awesome friends a person could ask for.  I will make the best of things and have a blast from here on in."
That email was written on March 14th 2007 – Samantha was 7 and Carter was 5.
Your kids are moving forward and they are so appreciating every single day.  The other day Samantha said, "I am living the life that my mom was living and wanted to live.  I am taking care of myself, listening to podcasts relating to self care, walking / running, cooking healthy meals…I am going to keep feeling good."   Carter said, "I had a moment the other day.  When I just stopped and read the letter that my mom wrote to me.  I have those kind of moments."   He told me he has been running, working out and that he is going to give it one more shot and try out for the CCHL JrA team.   I told him it is all about visualizing.   Feeling it before it happens.   Close your eyes and picture your mom in the audience.   Feel her cheer you on.   Hear us all screaming.    Visualize getting a goal.   Play with passion and always have fun 🙂  Karen you made it out to so many of Carter's games.   Huge thank you to JP for that xo
Our brother Brian has been communing to Orillia – an hour North of Toronto – for the last 4 weeks.    He was taking a four week course for the police force and just wrote an exam.   He texted, "I am home Tuesday, then I can exhale and we can chat…with a big glass of wine."    I am looking so forward to connecting with him this weekend.  We both really miss you Karen.  Loosing a sibling sucks !!
A few months into the Pandemic, I signed up for something that was completely out of my comfort zone.   Vipassana Meditation.    It is over ten days, ten hours a day of meditation, no talking, no books, phone, laptop ect. and your day starts at 4:o0am.     But when new COVID restrictions were introduced, they had to close their doors.   Of course I was disappointed but I looked at this as an opportunity to provide myself more personal growth before taking on this challenge.    Once all reopens, Vipassana Meditation is at the top of my list.
Through out COVID, I have been able to focus inwardly.  I have never spent this much time on my own before.  I remember a friend saying to me when COVID hit, "Now is the time to go on line – I had 685 hits in one night."   Is it just me or does that not sound exhausting ?
There is nothing at all wrong with dating sites but for me personally, it would simply take away from the time that I needed to "date" myself.  I am not too sure if most are like me but I have never been alone so much as I have in the past year.  I feel extremely blessed to say that I never once felt lonely.    The state of your being is going to decide the quality of your life.  It doesn't matter where you live or what you look like, you need to go internal.
I am living my life right now where I am simply going with the flow.   I move forward knowing that life is getting closer to the end.     It is only when you are truly aware of this, that one can live a meaningful and authentic life.
There is a quote that I love by Michael Singer….
"There is nothing more important to true growth than realizing that you are not the voice of the mind – you are the one who hears it."
When I returned from Ottawa, a few friends – who aren't connected – reached out to me at different time.   They either sent a text or a link but the message was the same.  "You should be a Death Doula."
I had never heard of a Death Doula.   So I did a little bit of reading and what I discovered is that these are individuals who assist people with the death process.     There are so many different layers to this but did you know that you can have a funeral in your own home ?  You can transport the body into your house –  wash the body, stay with the body – you can all sing, decorate the casket – have all the family around you dancing.   We are one of the few cultures who don't "celebrate or have the compassion" for death that is so important to have at the end of this lifetime.   I do understand how for so many, this can be very difficult.
A few weeks ago I signed up for a Global Summit – Death Doula Networking BC.  I had no idea what to except.   I poured my coffee, got out my note pad and got on a zoom call at 8:45am with 50ish other individuals from across Canada.   There was a lady from Australia and a few from the US.  I spent the day listening to different speakers, went into break out sessions and spent the entire day with such compassionate individuals.
I have now decided to take the Death Doula course that is being offered virtually at Douglas College.     I booked the last week of May off work and I will complete the course in 5 days.   I am looking so forward to simply being present,  learning something new and connecting with like minded people.
Karen, I am not too sure where this path will take me and I don't need to know.  I am simply going to educate myself in certain areas and maybe I can help people.
I was on a call with the Doulas last night – a meet and greet – I got quite emotional talking to everyone about our journey.  All the emotions that we as a family felt and still feel.   I have so much to share.   Not just from our experience but from losing mom and dad at an early age.   I don't want people to fear death.  I want them to embrace it.
Thank you sis – thank you for all the life lessons you provided to me, your children, our family….we will carry your spirit with us forever.
I love you sis,
Kathy xo
ps.  I found this letter that mom wrote – I absolutely loved it.   I am missing part of it, I only found the first two pages.    I was 21 years old living in Jasper at the time.  The letter is dated Oct 11th, 1989.   I was leaving at the end of the month to go backpacking to Australia/ New Zealand and Fiji.  My mom and dad were flying from Ottawa to Vancouver to see my friends and I off at the aiport.   I always remember they were both so excited for me.   Who would have thought, that within the next 4 years they both would be gone 🙁
This letter made me cry and laugh.   Mom was a beautiful soul.
Link to letter…
I asked your kids to send me an updated picture so I could post in blog.  I don't have their permission to post this "baby" picture of them but what the hell 🙂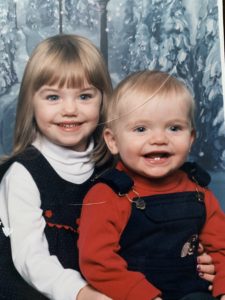 Samantha is 21 and Carter is 19.