A holiday that fueled my Wanderlust…..
A holiday that fueled my Wanderlust…..
Dear Sis,
Since my return from Nicaragua,  I have been thinking a-lot about this blog site.  Karen,  it has been exactly 5 years since I started writing to you.   It was pre my Bali trip, where I celebrated my 50th.  I wanted to create a platform where I could share with you my experiences, my thoughts, my stories and my love for you.  I wanted to keep us connected.  Give you something to do in that hospital room.   There were many people who helped along the way(JPxo).  The COVID nurse aids even set up a laptop and via zoom so I could read them to you.   This blog site has meant a lot to me.
I miss you every single day.   I really felt you on this trip.  I loved it.  I wore my Butterly earrings almost everyday.  When I was wearing them, I would often hold one in-between my fingers, touch it, feel it and I would really feel you when I did this.  Often, I would even talk to you.
In the next few months, I am going to work on this blog platorm.   I would like to re-write the cover page, change things up a bit – it has already been 5 years since I started writing to you and I am in a different place.  I believe that is a good thing – we should ALL keep on evolving.   I do know that I now want to write these blogs to my daughter Jenna who is turning 18 this July.   One day Jenna will be able to visit this site and learn so much more about her mom.  However Karen, this blog site will always be in honour of you xo
My journey to Nicaragua begins….
My flight was booked to depart on Thursday January 12th, leaving from Vancouver at 7:30pm.   I booked this day off work, took the 10:30am ferry from Vancouver Island to Vancouver and had an amazing, "Holiday BEGINS NOW luncheon" with a glass of bubbly and one of my very besties, Kerri.
We had this wonderful lunch down near the pier.   When we were done Kerri dropped me off at the sea bus –  this is the best way from North Vancouver to get to the airport – "sea bus (15 min) then skytrain (22 min)".    I got on the sea bus, sat down and started searching for my phone.  I can't find it.  I asked the lady sitting next to me to call it.  Before you know it, I have 3 people calling my phone, all panicking for me, now knowing that I am leaving on a three week holiday to Nicaragua.   Literally on my way to the airport lol ugh they felt sick for me.   After my support crew ladies get off, I stayed on to go back to the other side.   On the return trip, I now have the lady who works on the sea bus involved.  She was so helpful, not only was I using her phone to call mine, they made an exception to their rule and held my bag as I ran back  to the restaurant.   The staff confirmed nothing was turned in and it was not at the table.   I thought, I better check the bathroom – not sure why but we used the one upstairs.  This area was now closed.    I walked in, checked the stall, the counter tops, I looked on the floor – and then as I was just about to walk out – I had literally opened the door to leave – and a feeling came over me to stop, turn around, close the door and go look in the garbage.  When I looked in, I saw this black thing way at the bottom of the garbage – I honestly said out loud, "Are you fucking kidding me ? OMG it is my FUCKING phone!!!"  The garbage was built into the counter top so it must have fallen in.  I pretty much skipped in the rain all the way back to the sea bus, saying out loud, "THANK YOU MY ANGELS, I LOVE YOU".
When I arrived into Nicaragua, all went so perfectly well.   It always takes me couple of days to stop feeling a little anxious.   It is just that it is the unknown.  I like to make sure I feel safe, get to know my surroundings, my home, the area, the culture….it always takes me a couple of days to "adjust".
I rented a place via Airbnb in Granada for 3 weeks.  Granada is approximately one hour from Managua, the capital city in Nicaragua.  It is where the Country's main airport is located.   A place that I knew I would need to return to in order to fly domestically to Big Corn Island to get to Little Corn Island.   One of the many reasons I choose Granada as my home base.
When I started researching Nicaragua, I did not know much about this Country.  It has been so wonderful learning so many new things – I find myself still reading and digging in to history.   I absolutely loved the people.
Casa Marimba – is the Airbnb home (via Nancy – highly recommend)  I booked it for 3 weeks as my home base.  It is the first building on the right in the picture below.   It was only a 5 minute walk to restaurants, bars, shops, Central Square, Museums, Yoga Studio, Cathedrals – such a great location.   I arrived with a suitcase however inside my suitcase was a backpack for my 3 – 5 nights away to Little Corn and Ometepe/SJDS and a small pack.   It was perfect – so great to have a home base and make travel plans from there.  I LOVED my little one bedroom Casa with a plunge pool in the living room 🙂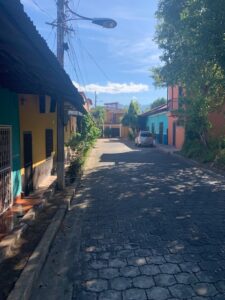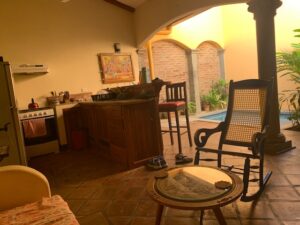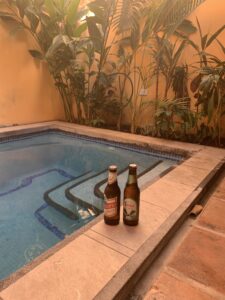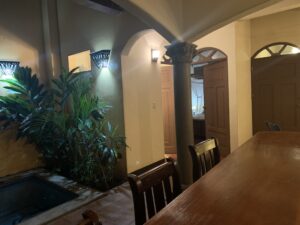 My first day trip was Laguna Apoyo, a beautiful crater lake – it is located close to Granada and it is the largest crater lagoon in Nicaragua.   I spent the day here, just relaxing.   There is a restaurant, Kayaks, Paddle Boards, Massage Therapapist, hikes…lots to do.   I really enjoyed the drive up the mountain.  You travel through villages, kids playing in the streets, lush vegetation and beautiful views of the lake from up high.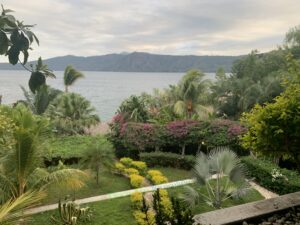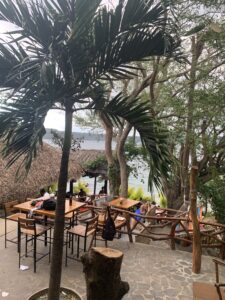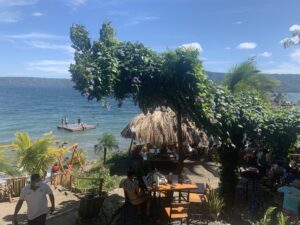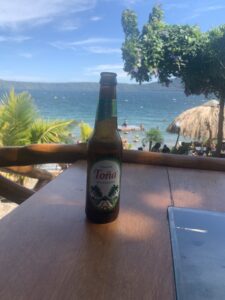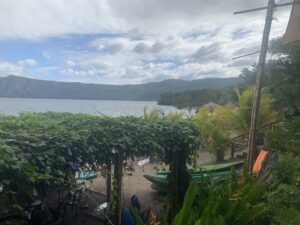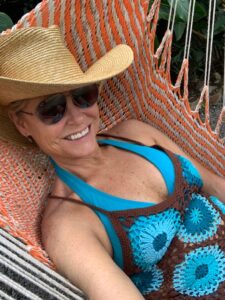 Mayasa Volcano is one of the world's most active volcanoes.  They say it technically erupts all the time.  I could hear and see the lava bubbling.    We drove up the volcano, walked up along the side of mountain to watch a beautiful sunset.  It was on the way down, when many of us gathered to see this beautiful crater lit up.
Some call it, "The Mouth of Hell".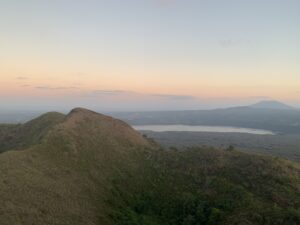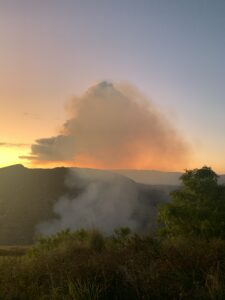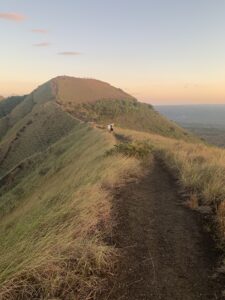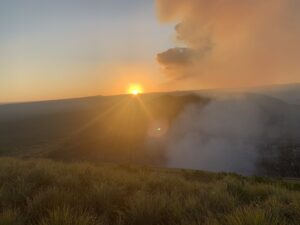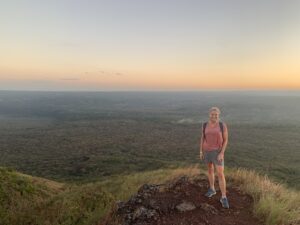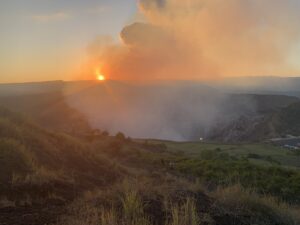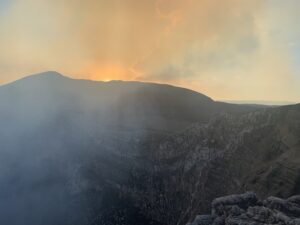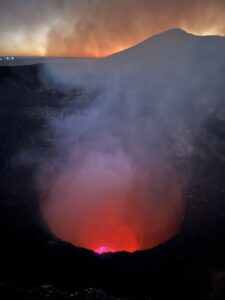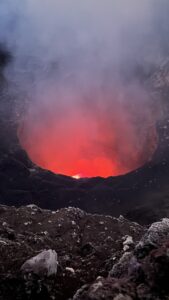 Ometepe Island, "An Oasis of Peace" – I fell in LOVE with this Island.   It is known for its twin volcanoes (rising from Lake Nicaragua) and it is the largest volcanic island inside a fresh water lake in the world.   This Island is renowned as one of the most significant rock areas in the world.  It has more than 1700 recorded petroglyphs.  The entire ferry ride over,  I could not stop smiling.
On the North Island is Concepcion Volcano (active) and South Island is Maderas Volcano.   I stayed South Island in a beautiful place called Finca Mystica.  When I arrived to check in, I actually turned to someone who was sitting on the deck and said, "OK, did I just arrive into heaven ?"  This place is so beautiful.    The 4 single Cob Cabins were all booked so I  stayed in a dorm style room for my first time since my 20's.  I had the best roommates 🙂
I have so much to say about my time on Ometepe – I just loved it.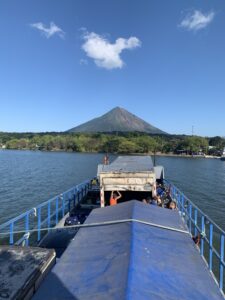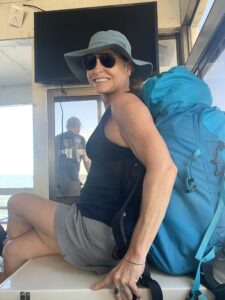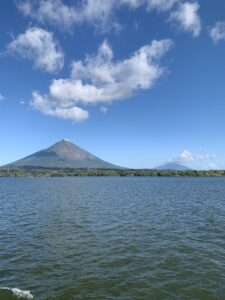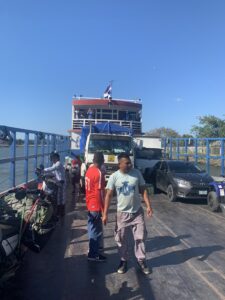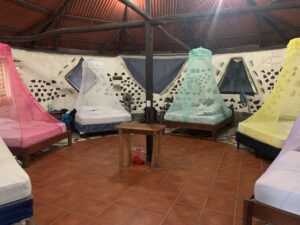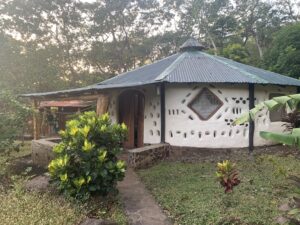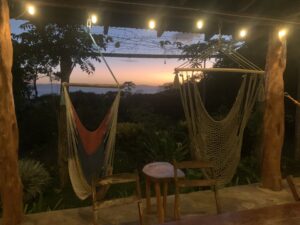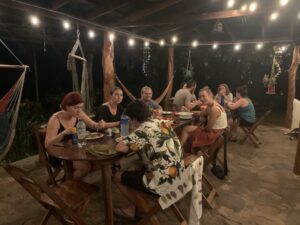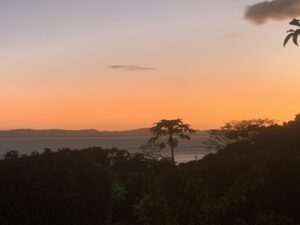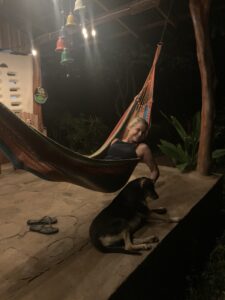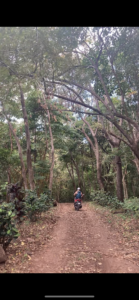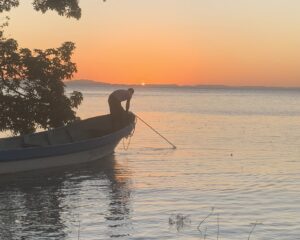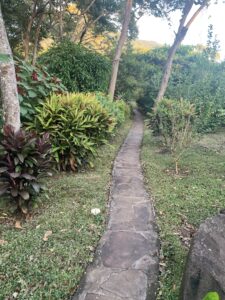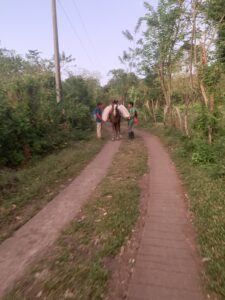 The hike up Maderas was tough – it was a 10KM walk to and from our Finca to the base – and 1390 metres to the crater (crater lake at top).  It was a tough climb – steep, muddy, rocky, slippery – and we had fun 🙂 Our guide was so knowledgable on the way up he told us about all the plants, flowers, trees and vegetation, how they use what for food and medicine.  It was $30US a day to have a guide – I joined an awesome young couple from Germany so cosy was only $10 each – we left at 8:45am we got back 4:30ish – it was one of my most memorable days.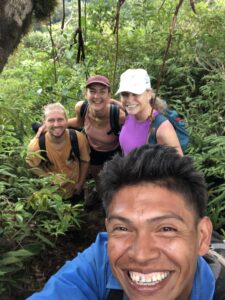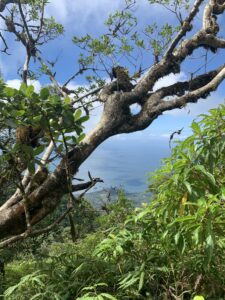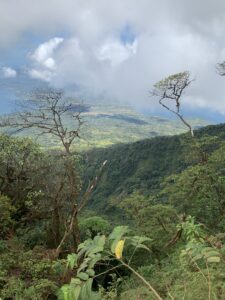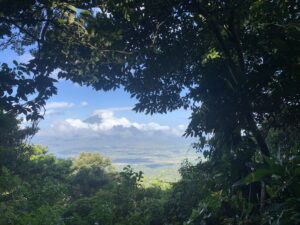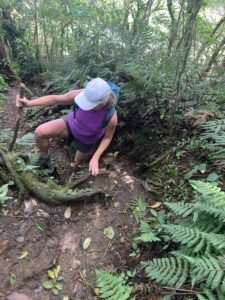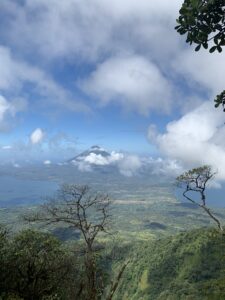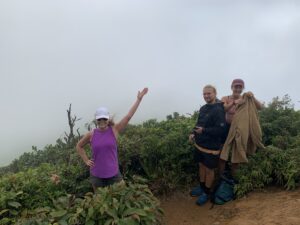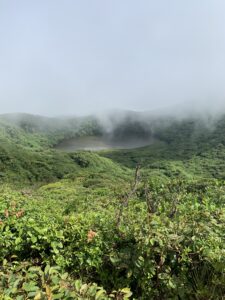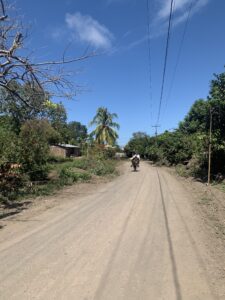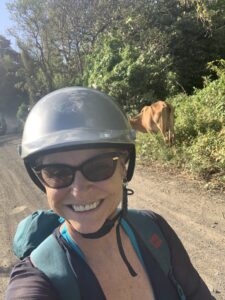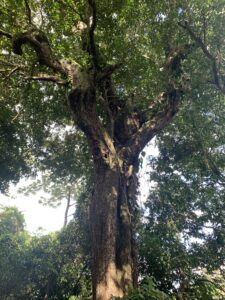 Yes, I will admit I had a lot of rattling nerves as I got back on a scooter – this was my first time post my accident – smashing into a pole – in Bali.    I started off with Jacob and Judith, the couple I hiked with – they were so helpful but within 30 minutes or so I said my goodbyes and off I went, touring the Island.   I drove for miles with only myself, cows, pigs and horses on the roads.  People waved to me from there porches.  I had lunch in this cute little town called Balgue and I found a private area (which was not hard) and swam in the lake.  I was a perfect day (except for one tiny accident 🙂 haha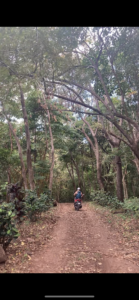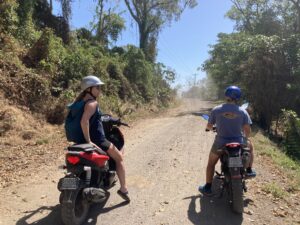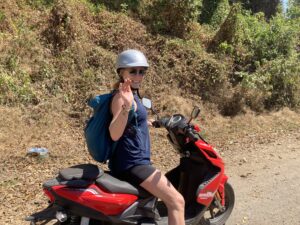 I travelled just over an hour from Ometepe (San Juan Jorge) to San Juan del Sur on a Chicken Bus.  At first I wasn't even sure what was happening.  I arrived into this crazy little town Rivas – and I say crazy in such a postive was as I loved it – and I had three people running after a bus, waving and yelling at me, "San Juan del Sur – COME COME COME !!"  So I started running with this young German traveller and before I know it, they open up the back door, grabbed my pack, tossed it up on the roof of the bus, stuffed the German Boy Tony and I in to the bus – as the door closes.   I laughed and said to him, "Well all we can do is hope that we and our bags arrive into SJDS."  And we all did – so fun.
San Juan del Sur had such great energy!!!    I had a friend who was there, who knew the area.   I got to hang out with him for a couple of days.  We rented a side by side – went to several beaches where there were hardly any humans and just explored !!  I met some wonderful people.    I was super grateful for the amazing couple of days I had in SJDS.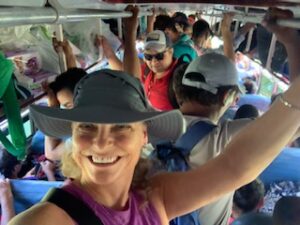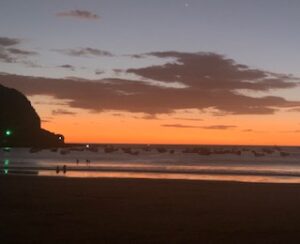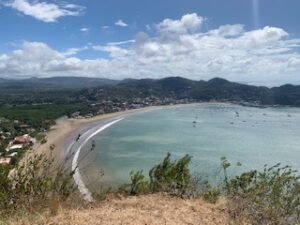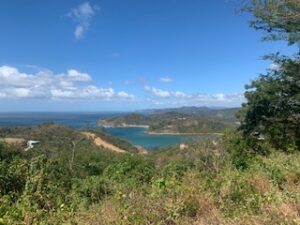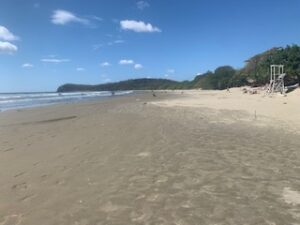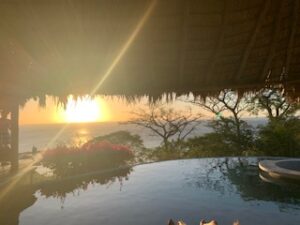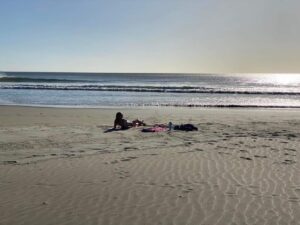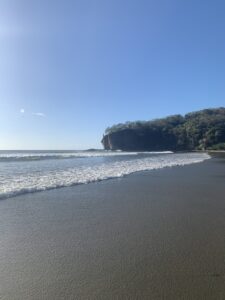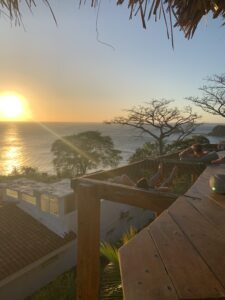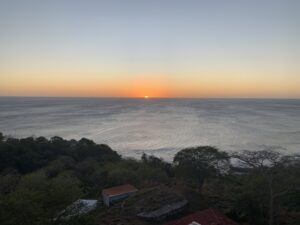 I returned "home" to Granada for two nights, then flew to Big Corn Island in order to get to Little Corn Island. Little Corn is a very small Caribbean Island, 65km's off Nicaragua's eastern coast.  There are no motor vehicles on the Island so the only way to get there is via Big Corn.   It is a journey to get there but so worth it.   The flight on a prop plane was 1hr 20min and then a 25 minute boat ride in an open panga.  The panga was the craziest ride as there were unusually high winds.  I thought we were going to capsize.   But it was out of my control so I tried to enjoy the moment. Days later, on the return trip to Big Corn, the waves were still high – therefore they took us all back via a Lobster Fishing Boat for our safety.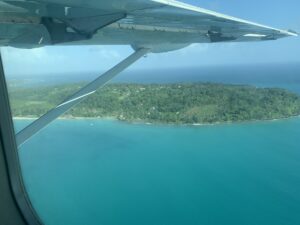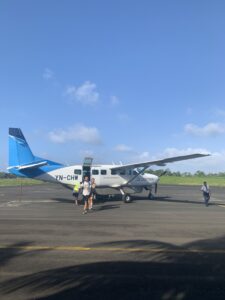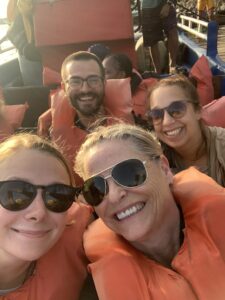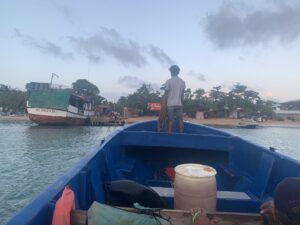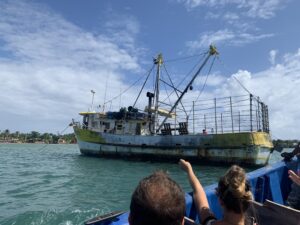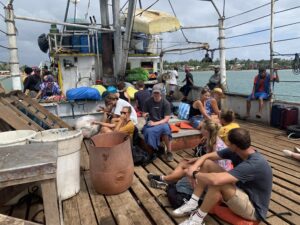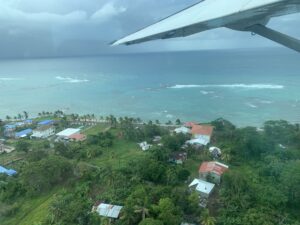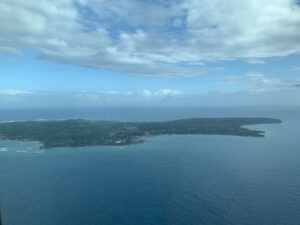 Little Corn Island was magical – there are so many wonderful places to eat – locals serving meals right in and on their decks  – very slow paced.  Nothing to do but relax and be in nature.  Population is 1, 200ish – it is part of Nicaragua yet it is a Caribbean Culture.   Another place where I met some pretty incredible people, still in touch today.  I was so happy I made this journey.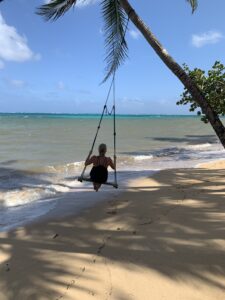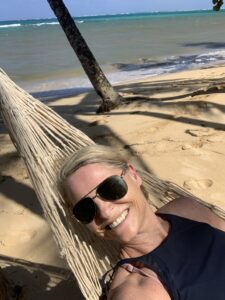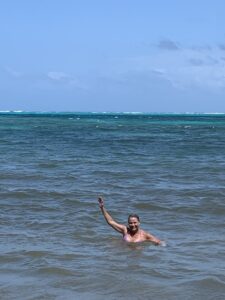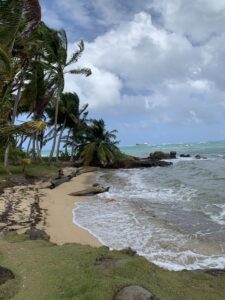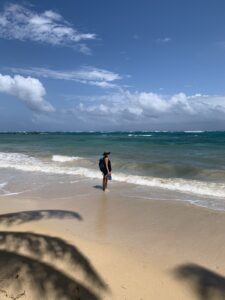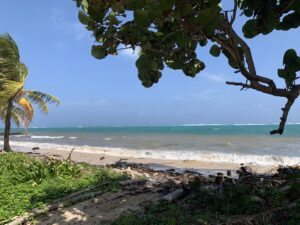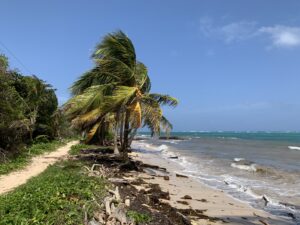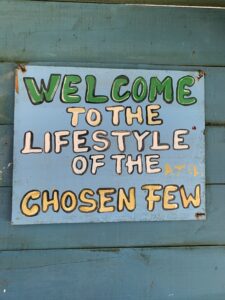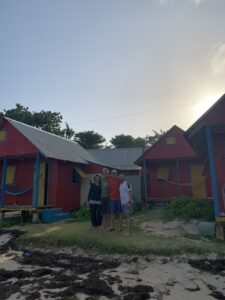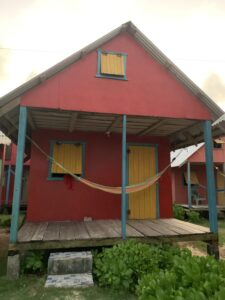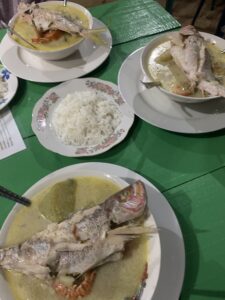 Sunset Kayak Tour though the Islets of Granada – the Islets are a group of 365 small islands located in Lake Nicaragua.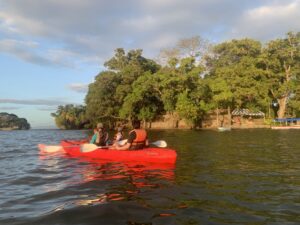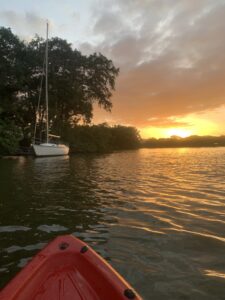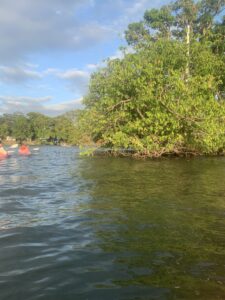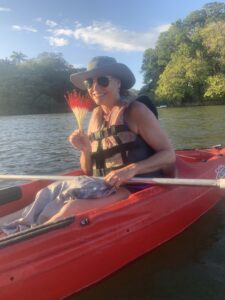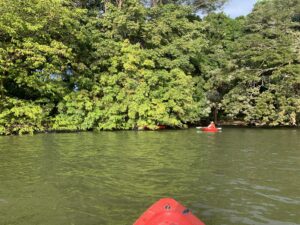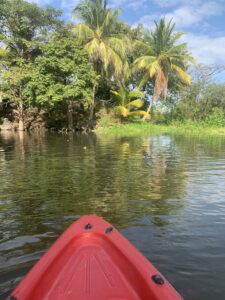 THE AMAZING HUMANS I MET ALONG THE WAY….UNTIL WE MEET AGAIN XOXO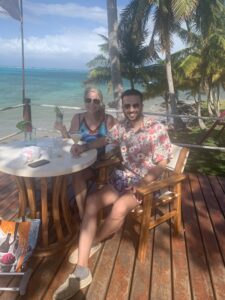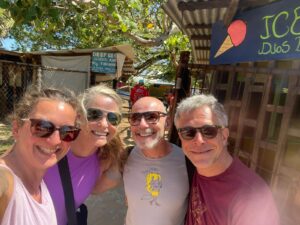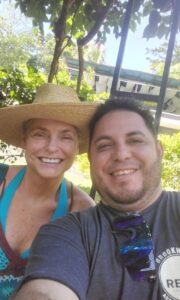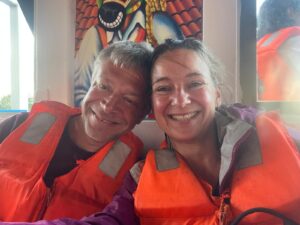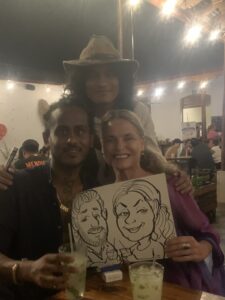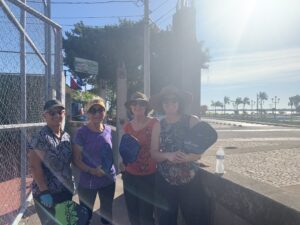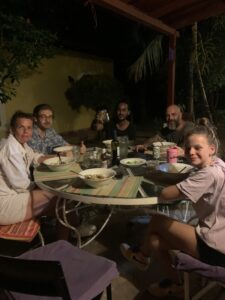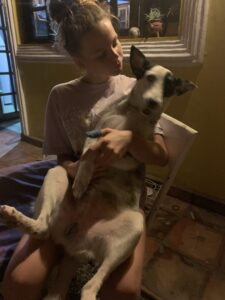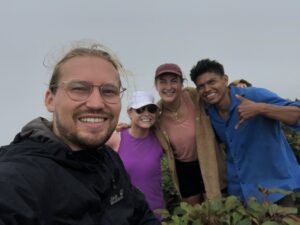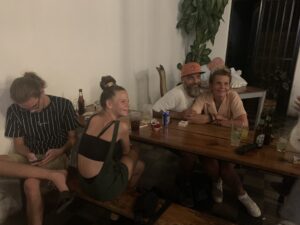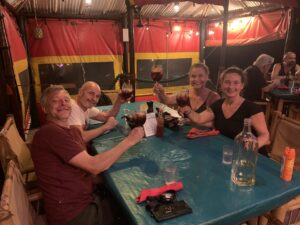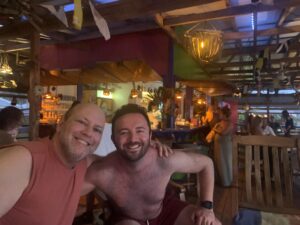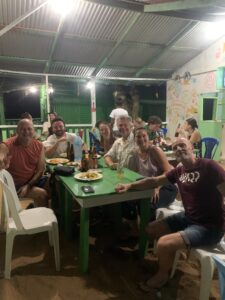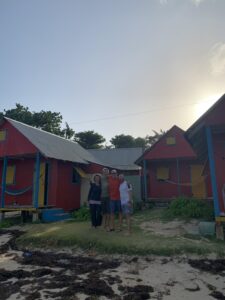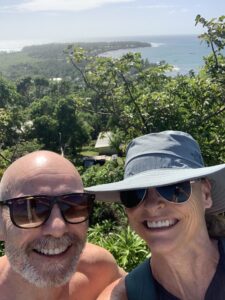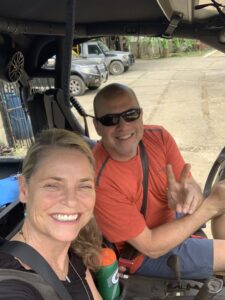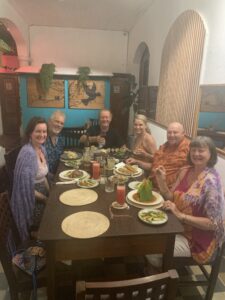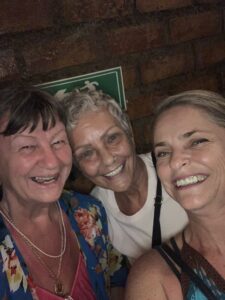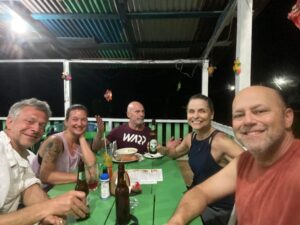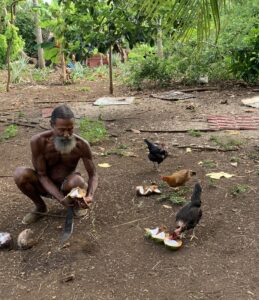 I brought back cigars for a couple of my male friends and 2 basebsall jerseys for two of my favoriate guys – Mike, my brother from another mother and our brother Brian who is sporting the jersey below.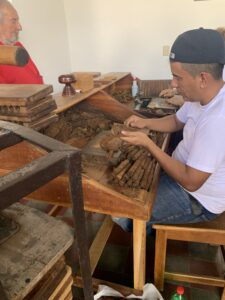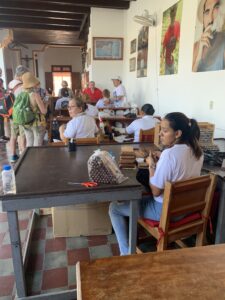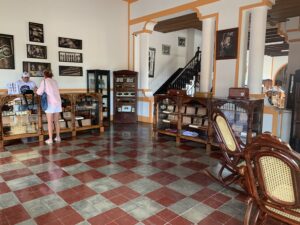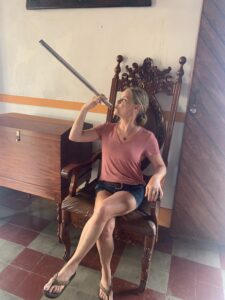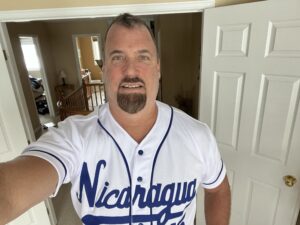 Granada – I loved the architect, the vibrant colours, the Spanish Colonial Theme, the beautiful cathedrals, the lushness – and the unique and stunning hotels.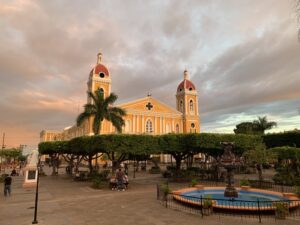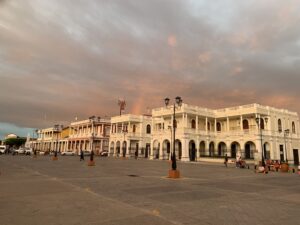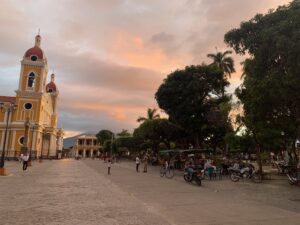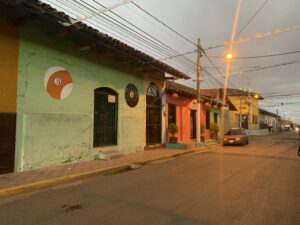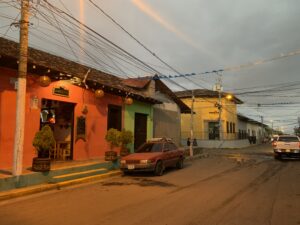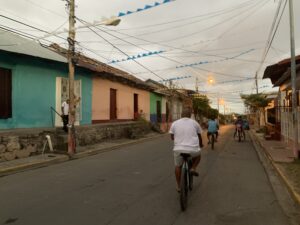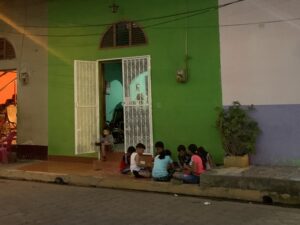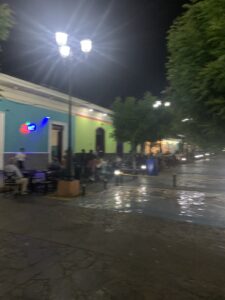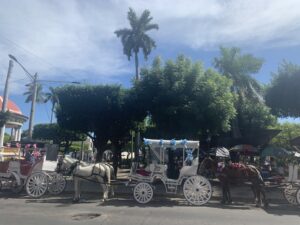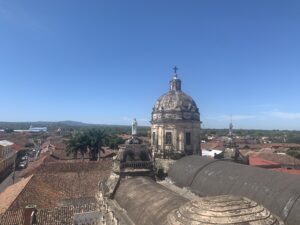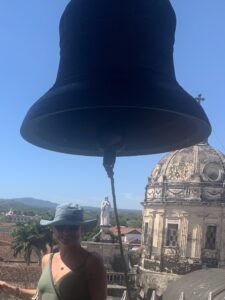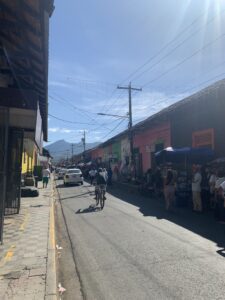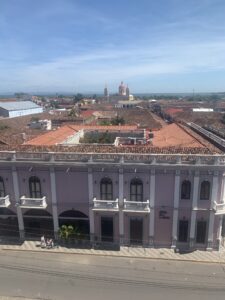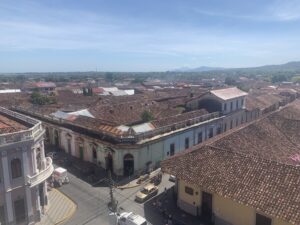 I now, I am back home in Canada – thinking, "Yippppee, what is next !!!???" 🙂
THANK YOU ALL SO MUCH FOR BEING ON THIS JOUNEY OF LIFE WITH ME XO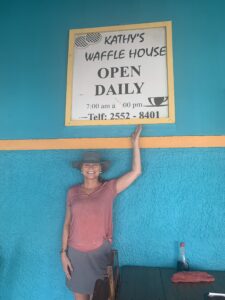 PS.  Love you sis – lots more to talk to you about personally – all is going super well but wow do I see things more clearly now – it has also been a tough week with Auntie Joyce 🙁 and today some more sad news.  It is not easy seeing people you love age and battle anxiety and depression.
I would like to dedicate this blog to Geoff Davis – your ex boyfriend from High School who you always stayed friends with.  The two of you had such a special relationship.
"Geoff, thank you for all the love you gave to Karen over the years and the kindness you always showed us – her family.  May you Rest In Peace sweet Geoff." Love Kathy xo