I will miss you sis, until we meet again…..
I will miss you sis, until we meet again…..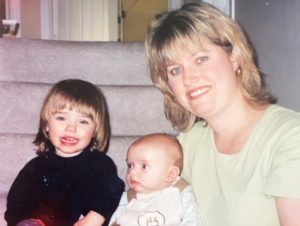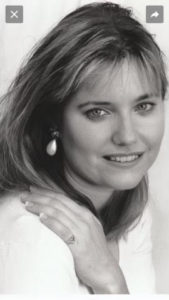 Dear Sis,
On Sunday January 24th, 2021, at 1:45am,  you transitioned to a place that is the unknown to us all.  But for you, this place is now your home.  A place where I believe you are loved by many and in no pain. 
When our brother Brian called me on the Friday and said, "You need to get on the plane.  I need you here."   There was not a doubt in my mind, I had to go.  Not just for him, but for all of us.  I needed to be with our family.  I needed to be with your kids, Samantha and Carter.  I wanted to talk to you, hold your hand, kiss your cheek.  I just wanted to be at your side.   
I arrived early Saturday morning.  As Brian and I drove from the airport to the hospital he said to me, "This time it is different.   Karen has limited time."   I kept praying, "Hang in there sis, please wait for me." And you did.  Those next 16 hours that we had with you, were so special.   Even though you were mostly asleep, eyes opening and closing,  still giving us the odd blink, I know you heard every word.  But most importantly you felt our love.
The doctor informed us that the pneumonia had taken over your lungs.  The antibiotics were no longer working.  You were unable to produce your own oxygen.  It was time to say our goodbyes.  Yes, again lol I say that with our sense of humour.   I am sure you heard us laughing – because that is what we do as a family, we laugh and we cry – but this time we all knew it was going to be the last good-bye.   This time we all knew you really were leaving us 🙁
Myself, Brian, his wife Les and your children all sat with you, comforted you and both kids did not let go of your hands.    We said everything we wanted to say to you.  You kept on breathing, so strong.  So strong Karen.  Right till the end you hung on.   I love you for that.  I love that you did not want to leave this world.  I love that you wanted to keep living, even though you had no quality of life.   You simply just hung on to every single moment.   You listened, you felt and you loved.  In your silence you were taking it all in. 
Over the years, Brian and I had many conversations how it needed to be your decision when you were ready to leave this world.   Not the doctors.  But as I sat for hours and watched you continue to breath, continue to not let go, I felt that you needed me to help you.
It was 1:00am or so and I suddenly became very focused.  I went to your side.  I stroked your hair, kept kissing your head gently and whispered in your ear. "We are all here Karen.  Your kids are OK.  It is time for you to find peace.  Mom and dad are waiting for you.  Your kids are now 21 and 18.  You did it.  You thought you would not make it till their 16th bday but you were able to see them as young adults.  My brave, courageous sister.  It is OK for you to let go."  As I whispered, there was suddenly a very strong energy in that room.  We all knew we were about to be a part of something so powerful.   
As I continued whispering in your ear , I kept thinking to myself, "I need to stay right here, I need to"walk" with you on this journey…..just keep talking.  Keep guiding.  Keep reassuring."    I know you heard me.   I remember looking up with wide eyes that were starting to fill with tears.  Brian and Les moved right up to the bed.    Your kids were on each side saying they could feel your hands squeezing their hands just a little tighter.   
Your breath started to become less powerful.   More calm.   One, two, three…slowly, one, two, three….we all watched knowing you were leaving us.    But we all stayed strong.   We all stayed with you every step of the way.   Until you took your last breath. 
When you stopped breathing, it took all of our breath away.   As difficult as it was to "lose you",  we all felt this incredible spiritual connection, filled with love and peace.
We will always be so very grateful for that experience.    Days before, you were in St. Vincent's Hospital – where you lived for ten years – on lock down.  A place where you had no visitors – except for a small window of two months in the summer – for almost a year.    But somehow you managed to get yourself out and into The General Hospital,  where the staff so graciously allowed us to all be at your side.    I believe it was all orchestrated by you Karen.  A good friend said to me, "It was like Karen was an event planner, all the details at the end of her life, unfolded so perfectly."   
During a time when there is a Pandemic, we were all able to be together.    The funeral parlour allowed us to have a service with a max of ten people that included the priest.   Together we chose a reading, a poem, songs…we all stayed with Brian including your kids…and as a family we said #fuckcovid…right or wrong, it did not matter.  What we needed was each other.
People were so thoughtful – the generous amounts of food that was dropped off to my brothers house was truly appreciated.   The food, flowers and cards I received when I got home, made me cry.   The hundreds of comments on social media, the private messages and stories that were sent our way.  The donations made to MSA.     It all brought us such comfort knowing so many people were out there, supporting us.   From the bottom of our hearts, thank you xo
Right till the very end of your journey, everything unfolded so perfectly.  As a family, we made a decision to travel from the funeral home to the cemetery  in a limo.   The reason for this is that we wanted to be able to travel together, with all the kids in the one car.    As we approached the funeral home, to meet the car that would be transporting the urn you were in Karen, to our surprise, there were 4 police cars in the parking lot.   As you know our brother is a staff sergeant in Ottawa.    His platoon wanted to show their support. As we drove in a procession to the cemetery, cars pulling over, light flashing – I am sure  people were thinking, "Who the heck is in that limo – especially during COVID and with a police escort!!!"   Most would be thinking it was some government official or a movie star lol but no it was you Karen.  Then as we pulled up to the cemetery, there were at least two dozen police cars, lights flashing, officers lined up along the side of the road, all saluting YOU.   Yes for our brother and the family but for me Karen I felt that this was all for YOU.   Saluting the courageous woman you were, the battle you fought for 18 years, the love you continued to show your kids as their mother.   I can't stop telling people about this last part of the journey.  It was truly amazing.
Karen, as you know, in the last so many hours I was with you, I whispered to you, "Show me butterflies.   Butterflies, butterflies, butterflies.  Make them appear.  That will be our sign."   Here it was, winter in Ottawa – snow, cold – but you made it happen.  Within 72 hours the signs kept appearing.   Even your kids said, "Auntie Kathy, how are you doing this ?"  I simply responded, "I believe.  When you believe and you are open, amazing things happen."
The first one appeared pretty quickly.  It was only hours after you passed, I was sitting on the couch with Samantha telling her about this documentary on Netflix that a friend recommend for me to watch.    I could not recall the name so I asked her to try googling the title.  She suddenly showed me what was in the title….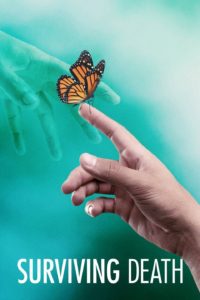 The next morning, we were working on getting together some clothes for you Karen.  We had our last moments with you – a "viewing" – at the funeral home, pre the service.  The night prior we picked out a beautiful top and some other accessories but we were still needing to get you a scarf.   Sam and I walked into a drugstore  – our shopping was very limited due to lockdown in Ontario – and the very first scarf Sam saw was perfect.   She called me over saying, "Look Auntie Kathy, the colour will match her blouse and it has beautiful flowers."  I walked over, took it from her hand and said, "It could not be more perfect, look what else is on this scarf."  Yes, butterflies.   
The one thing we wanted to find but could not find anywhere were "clip on earrings".     But as soon as we returned home from the store, my brother's young daughter MacKenna came down the stairs and said, "I have the perfect pair of earrings."   Yes they were clip on butterfly earrings.   You know, typical for a ten year old to have in her room hahaha 🙂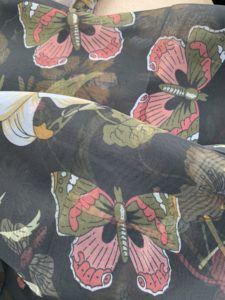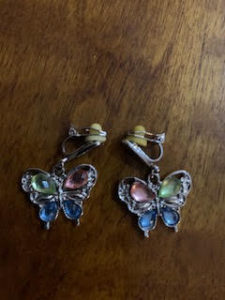 The signs continued….as we cleared out your storage locker – yes we kept your wishes and did not toss your last possessions – there were boxes, pieces of furniture, wheelchairs, a TV, a bike,  golf clubs ect ect ect.   There were so many items that we could have looked at first.    But within the first minute of arriving, Samantha opened up a box, glanced in and pulled out a mug with a butterfly on it.  Karen, over all the years I stayed at your house, I had never seen this mug before.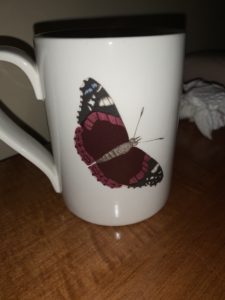 Even at the funeral home…..the first option for a guestbook that was presented to us is seen below.  When the funeral Director opened to this page, I just smiled at my brother 🙂
The day after you transitioned, a friend of yours wrote a long message to Brian and I talking about all her memories of you.  In the message she mentioned how she has a memory with you and the kids at Butterfly Park.   The signs just kept coming in 🙂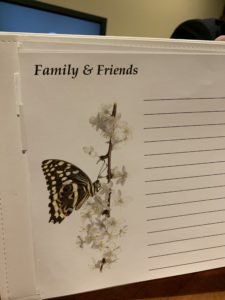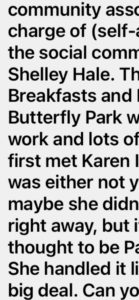 But it was the Obituary in the Ottawa Citizen newspaper, when our brother said, "OK, what the heck is going on.  Even I am starting to be a little bit of a believer." lol the skeptic.
Brian was looking at your picture in the newspaper, when suddenly he said, "OK, there are butterfly wings above our sister's head."  Of course I started jumping up and down yelling, "YAY !!!!" lol  He then said, "I am going to check out every pic in the obituary section.   There must be someone else who has butterfly wings."  But as he scrolled down, every personal picture had a "tree" above their head.    He kept saying, "Ok droopy tree, droopy tree, another droopy tree,"  he searched at least 20 – 25 names / pictures – NO BUTTERFLY except for you Karen.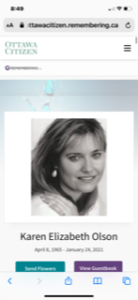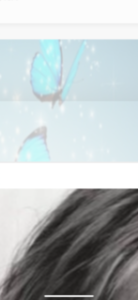 Another moment of "knowing" – not relating to butterflies – is when the neighbour who lives across the street from our brother knocked on the door.   It was the morning after you transitioned.  I did not meet her however she told Brian that you kept sending her strong messages throughout the night.    You asked her to bake us some muffins –  something that you would ask.   So she did – dropped off the muffins, went home and then texted this to Brian….
"There is more to your sister's message then I could tell you at the front door.  Her energy is so strong that it is taking my breath away.   She also has a message for your sister:  She says," Thank you for being my cheerleader.  There are two difficult events coming up for you.  One where you are in a supportive role and one fork in the road.  Know that I am with you every step of the way.  Feel me there by the smell in the air, hand on your shoulder or the song on the radio.  You will instantly know.  I love you." She then wrote, "Sorry if this is weird.  I am an Empath and like water, spirit takes the easiest path to get messages across."
Karen I never told anyone this but as I pulled up to the airport in Nanaimo – flying home to see you –  a song came on the radio that was released in 2008.   Over the years I have told my daughter Jenna that every time I hear this song it reminds me of Auntie Karen.   I had not heard it in years.   So for it to come on the radio just as I am about to begin my journey, and to hear Jenna say, "Mama – it's Auntie Karen's song !!!  This is a sign!!!" I responded, it most certainly is.
So yes, signs everywhere.  Even on the plane ride home, I had tears coming down my cheek – and into my mask – because I had the strongest smell of you.  It honestly took my breath away.  It was so strong.   It lasted for 2 minutes and then it was gone.
So I want to say thank you Karen…..thank you for sending me so many signs.  
I choose to believe xo
I have lost many people in my life and each time I become stronger.  I have less fear about dying.   Each experience makes me want to celebrate life.
I will be OK Karen.    I don't want you to worry about me.   I know you will because that is what a big sisters role is.   You have always looked out for me.  Given me advice even when I didn't want it.    Together, we travelled down this road of life laughing, loving, crying and supporting each other every step of the way.
Now your road has taken a turn in a different direction.   I have never felt more of sure of knowing that mom and dad are with you.  It had been years since I have dreamt of our dad.    But since you transitioned,  I have had 3 very vivid dreams of him.    The last one I had, only two nights ago, was he and I were in a theatre type auditorium.  It was full of people.  He grabbed me, put my feet on top of his, put his arms around me and started dancing from the top of the room, down the aisle, swinging me around but keeping our feet together, down to the front of the room and back up again – I was laughing and saying, "Dad, stop, everyone is looking." But everyone watching loved it – they cheered us on – so we kept dancing.   He was so happy.   Everything about this was so comforting.  Is this another sign ?   I choose to say yes xo
I have a small part of you that I will keep close to me.   At the end of this month I will go to my special beach in Tofino, where I prayed and talked to you for many years.  I left for Ottawa all so quickly that I did not even think at that time to bring Jenna with me.  So I made a  promise to her that we will have this special time for the "3" of us.   You are coming along sis xo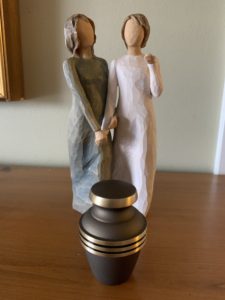 I love you my beautiful sister.  I don't want this blog to end.  I have been writing to you now for over 3 years.    I am not too sure how I will move forward with my writing.   I truly enjoyed sharing stories, keeping it all real but most of all I loved knowing that these blogs allowed me to share a part of my life with you.
I want you to know that wherever the road in life takes me – and I will do, see, love and live as much as I possibly can in this world –  you will forever remain in my heart.
I love you sis,
Kathy
Sharing Obituary….
https://www.arbormemorial.ca/en/kelly/obituaries/karen-olson/61369
Sharing virtual service….
http://www.livememorialservices.com/Home/ServiceDetail/10090
ps.
I have so many wonderful memories from over the years to share but here are a few of my favorite pics…..
REST IN PEACE MY BEAUTIFUL SISTER XO