Happy and healthy…
Happy and healthy…
Dear sis,
I am in a place of peace and wholeness.  When I say wholeness, I mean that I feel full.  Full of love, understanding and appreciation.    Trusting, believing and surrendering.
The last four months, I was given the gift of time.   Time to nurture myself.  Time to let all go.  Time to relax.   Time to create new experiences.  Time to always fall in love with whatever made me feel good.
The love and support that I received both personally and professionally,  was so very much appreciated.    I was able to "just be".
This week I started back at work with a new perspective.  I feel more at peace now, with where I am at in my life.  Excited when I think of my future.   I don't even need to know details.  I just know that I will always be happy.  It's a great wave to be riding.
During my time off, I got to know my body again.  I have always eaten healthy and I have been juicing,  carrot/spinach/avocado/celery/orange/ginger, for over 25 years, however in the last year I wasn't doing it as regularly.  But I am back on track.  Ground flax, oatmeal, avocados and tomatoes, salmon, Kombucha and I am addicted to dates !!!  I buy large bags from Costco, stuff them with walnuts (and often blue cheese) OR I just eat them right out of the bag.   I usually snack on at least 3 or 4 of them a day.  They are delicious 🙂
I have not been drinking as much wine.  I actually went all week without having a glass (weekdays that is, not weekends, please let's not talk crazy) and I am now a tea drinker.  I have only had maybe 3 or 4 coffee's in the last 4 months.    I will not never drink coffee again but it won't be my morning routing anymore.  I am drinking warm water with fresh lemon.
Water is a necessity for me.  I try to drink at least 4 litres per day.  If there is one thing all people should be doing is fuelling their body with water.   I actually hold my water differently now.  This may seem odd to many, but I now hold my glass, thinking about how fortunate I am that I can fuel my body with unlimited clean water.
I am back doing my yoga more regularly.    For the last 20 years I have been doing yoga (favourite classes where at Harbour Dance on Granville street in Vancouver, Derek !!!) but again over the last year or two I was not doing it as often.   So yes back on track doing 4 or 5 classes a week.  I do them at home.   Friends make fun of me because it is the same tapes (VHS to disk to stick  – Bryan Kest) but to this day, his classes are the best.    Ashtanga yoga, and they are tough.
Everyday, I go on my power walks.    I crave being outdoors.  If there is one piece of advice I could give to anyone it would be to go for a walk everyday.  Who cares if it is cold or raining.  Just go.
When I was home, I took Jenna to and from school.   I spent quality time with her.   Listened to all her stories about her day.  I cleaned out cupboards and drawers so I could go back to work with an organized mind.
I got to spend time with you.    I was able to visit you with your kids.  Spend time with Brian and his family.  We all shared so many special moments.
I travelled, met many new people,  creating more experiences/memories.
I am moving forward with no medication.  I am confident that I am able to manage my health for another 25 years based on positive attitude and diet.   Moving forward, I am going to pay attention to how I feel.   Focus on love and joy.   The only person I need to understand is me.
It is so beautiful when you feel a mental, emotional and spiritual connection.   Life can be as beautiful as you want it to be.     But you have to feel it, not just want it.
I had a great group of ladies over last weekend.   We all talked about you Karen.   A few weeks ago, when you got rushed to Emergency at the Civic Hospital, everyone was so concerned for you.   But once again, you fought hard.   During the week you were in there, you were so well looked after.    I love how the nurse put a radio in the room for you, asking Brian what type of music you like to listen to.
Jean, the 90 year old volunteer from St. Vincent's, also went to visit you twice 🙂 That lady is amazing.  She has even called me from Ottawa, three times with an update.  She said that the nurses at the Civic keep saying what a sweet lady you are.  You know what I love about that ?  You can't talk, walk, eat or move, yet you still come across "sweet".  It is your kind way Karen.   Your loving energy.  I always say that you are one of the kindest people I know.
I hope you are sleeping well and having pleasant dreams.
I love you sis,
Kathy xo
ps.  I posted a video below.  Just a little spontaneous video Kerri and I made on our walk.   When we didn't call you Saturday night, I felt bad.  So on Sunday morning I said to Kerri, "Let's send a quick little hello from the two of us."  xoxo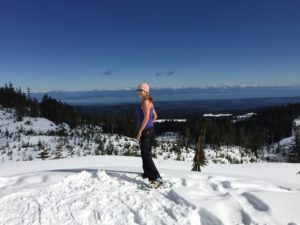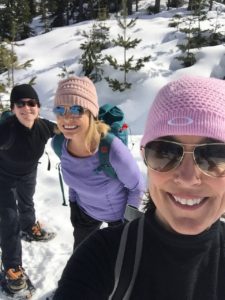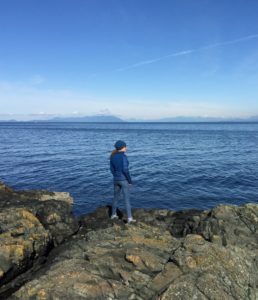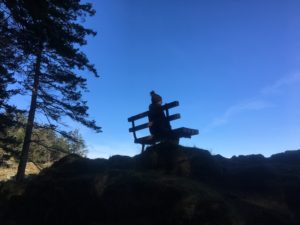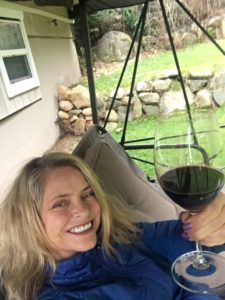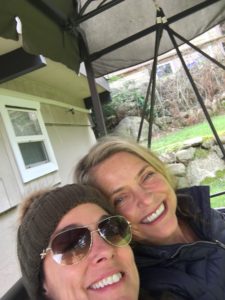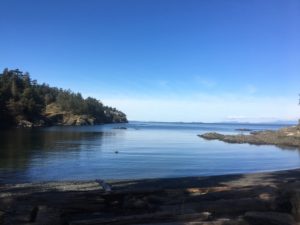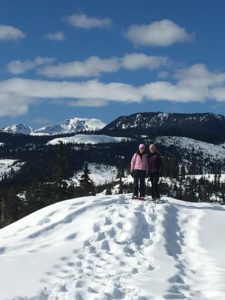 ps. On my walk last night, I saw this Owl.
"Owls have great wisdom and can see beyond the illusions in life…The owl encourages you to see beyond the surface and use your curiosity to guide you in life.  The owl spirit animal usually symbolizes death, but it can also mean a great change will come into your life."
I chose the latter….because I have always welcomed change.