A day to remember….
A day to remember….
Dear Sis,
When I flew into Bali last Sunday,  the hotel  arranged a driver to pick me up and bring me to the hotel.   That driver was a young gentleman, named Santana.
On route to the hotel he and I chatted about his young boys, wife and family.   Prior to me getting out of the car, he offered me his card and said to me that if I wanted to do a tour of Bali to contact him.
Today was the first day off I have had since my arrival.   So a few days ago, I contacted him, as I would much rather go on a personal guided tour as opposed to a bus and/or with other tourists.  He agreed and said that the cost would be $45US for 10 hours (even though our day turned into a 12 hour day)   I did ask my two lovely Belgium friends, who are also volunteering at the Orphanage, to join me.   They are both arrived into Bali 3 weeks ago, doing an internship for their University degree.  They are in Bali for 5 months.
This morning, as I was waiting in the lobby for the ladies to arrive, Santana shared with me a laminated booklet with all the typical "tour sites" that are popular in Bali.   Woodcarving, Coffee plantation, Market, Rice fields, Gold and Silver crafting, Batik Wand Weaving etc. etc. ect.  I told him my thoughts re 3 – 4 sites I wanted to see however I also wanted to ask the girls their input when they arrived.  In addition, I said to him, "In the car on the way to hotel from airport you mentioned your village.  Can you please take us there ?" His English is "good" however I did have to repeat my question.  When I asked the second time, the biggest smile came over his face and he responded, "YOU want to come see my village?" "Yes please Santana," I said, "That will be the best part of our day."   He joyfully said, "Yes".
When the ladies arrived, we agreed on 4 destinations…..The Taman Ayun Temple, the Monkey Forest, Tegalalang Rice Fields, the holy water temple and the 5th being Santana's village.
After we visited the tourist destinations, we worked our way towards the Batu Volcano.  We were informed that his village was located near the base of the volcano however around a mountain.  Or that is what we understood.  To be honest the three of us had no idea what to expect.  We thought, like anyone would think,  a "village" would consist of local's, stores catering to them,  no tourists ect.  Words cannot describe (nor can the pictures below) of the experience that Michelle, Jana and I had today.
As we approached the base of Mount Batu, Santana mentioned there were many hikers that would come to this area to hike the Volcano.  However as we drove past this area, we got more remote.  Passing some locals, and yes their stores – a little "village" – and not one local in site.  Then we started the climb.  We drove up and around this mountain, along small winding roads, where you could honestly only accommodate one car at a time.  There were moments when we all held our breath.   We kept climbing and climbing.   The odd time we would pass a small "house", or people working out in the field.  As we climbed the condition of the road became worse and worse.  Too be honest I am not even sure how long we climbed for, but what I do know is that from Santana's village direct to my hotel, it was a 3.5 hour ride home tonight.
We came to a place on the road where you simply could not drive anymore.   He said to us, that we had to park the car and walk the rest of the way.   No cars could get passed this point.   So off we went, trekking up, down and around this dirt road, not knowing what or who we would find.
After 30 min or so, we saw his "home".   We were greeted by his father, his sister-in-law and niece.   None of who spoke English.  Within ten minutes, his mother whom I believe was out in the fields arrived, and one of his brothers.  Again no English but we all used the International language of a smile 🙂
Santana hugged his mother and with tears in his eyes said to us,"I love my mother….I love my mother so very much."    At that moment we all had tears in our eyes.
I cannot even describe the view from this "village".  And when I say "village" there was nothing else around except their "home", a few cows, chickens, corn fields, papaya and banana trees and his 12 year old niece sat in a homemade swing that was made out of an empty rice bag and metal…I think.  Not sure but yes it was a home made swing.
Within ten minutes, Santana placed a cover over his front porch, gave us each a bottle of water, offered us homemade coffee, these sweet bread bites and within the hour we were picking fresh corn from the field.
He told us how he has 8 siblings and how that when he was a child he spent 6 years in an orphanage.  His parents wanted him to be able to attend school.  You see his school only went to Elementary.  So in order for him to continue his parents had to send him away.  He eluded to the fact that it was a terrible time for him.  I have heard that in many of the orphanages in Bali the children suffered from lots of abuse.  Hence Alison opening the Jodie O'shea Orphanage, saving many of these children.
As we sat on the porch and socialized, his family members watched from a distance. Often wandering over with a smile.  We were the first foreigners to visit his village.    As new as this was for us, this was new for them.
We stayed for a couple of hours and as we left they all waved goodbye.   And off we went, walking up, down and along the "broken" road.   We passed several individuals on motorbikes, all stopping to ask Santana who we were and him informing us they were his Uncles / Cousins  – all family members.
When we arrived back to the hotel, all three of us said it was one of the best experiences we have ever had.   As we started driving to the village,  I truly noticed a difference in Santana.  All day, he was our local tour guide.   A job.  English as his second language.   However as he guided us up the road to his village, he felt so proud and he was very much in his element.
We all felt extremely honoured to be there.  It was such a privilege.   We all agreed it will be a day that we will remember forever.
I love you sis,
Kathy xo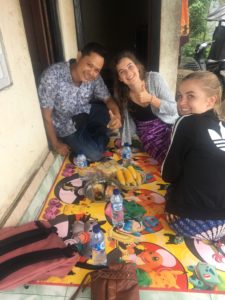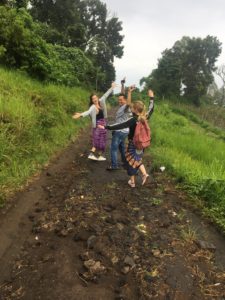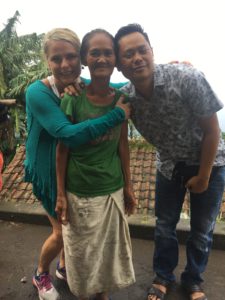 0