Just do what you need to do for you….
Just do what you need to do for you….
Dear sis,
Hi Karen !!!!!  I am finally sitting down to write this blog.   So many evenings this week, I would think, "Oh I want to write – I honestly crave writing stories – I love it – and I love to share them with you 🙂 so I would write a little but then I would choose yoga, or a long walk or a bath.  I have gotten really good at taking care of me.   It is all about balance for me right now.   I am getting pretty damn good at it.
However tonight, it doesn't matter what time it is…I am going to finish this to you.
I am sorry I couldn't FaceTime you yesterday when Lu was there.  It was just bad timing with work schedule.   I hate missing the chance to talk to you.   I can't even imagine Karen how fucked up it is for you to sit there in you own thoughts, constantly.   Honestly.  It is disgusting.   What must be going through your head.  Oh sis xo
I have a new plan.    In January – I am going to gather all your girlfriends – even a handful – and have a get together in your room !!!    I am going to coordinate this event – a girl night – and guys if they want because I know you have a lot of guy friends – you know how I loooooove to event plan 🙂   That way I can FaceTime you and we can ALL talk.  I think this will be good for many of us.
I also need to give you updates on MSA.   There is a conference call taking place in January. It is our first Board Of Directors meeting.    I promise I will give you updates.  I am looking forward to hearing how I can contribute.
The other reason I am feeling a little emotional – but emotions filled with so much joy – is because I started looking at my pictures from my cruise, almost one year ago today.    On December 22nd I boarded the plane in Vancouver and flew to Abu Dhabi.     My beautiful friend Mario – he and I have been friends for 30ish years – offered me this holiday, when I was in the hospital, 3 days post surgery.
I kept this holiday very private because I was on leave from work.   I have no regrets not sharing any pics at that time on social media.    Can you imagine…"My team busting their butts and there Kathy is "on medical leave" cruising through the Persian Gulf and Sandboardig in the Arabia Desert."  It simply wasn't the time.
But now it is.   For many reason.  I am so fucking proud I did it !!!
This journey really started by me having to work through what people would think when they found out I was taking 4 months off.    However once I made the decision to move forward with taking the time, those feelings of guilt completely dissipated.  O-M-FUCKING-GOD !!!  Not working for 4 months was heaven.     Yes the first two months were very much about physical recovery but wow those last two months were so good for the mind and soul.  I was so very very grateful for that time.  I needed it.
There have been quite a few heartfelt people who have approached me in the last year, telling me how proud and envious they are of me for taking that time.  How they have so many regrets about how they have been managing their health – and not putting themselves first.   So many of us try to do so much.   So many of us worry about what other people think.     I now live my life, that if people want to judge me, go for it.  I really really don't care.
When Mario offered me this complimentary plane ticket and 14 night cruise to India, Abu Dhabi, Dubais and this beautiful man Island called Sir Bani Yas, I said to him,"Oooooooooohhh I so want to go !!!    But I just had abdominal surgery…I can't board a f—ing plane??!!!"
His response was, "Come on Kathy – you've got 5 weeks – we are movers and shakers !!!  You can do this."
So I said, "Damn right I can do this."
I had just worked through the guilt feeling of taking 4 months off work.   Trust me when I say, one should never feel guilty about taking time off for the goodness of their health.   I learned a lot during this "process" and I have come through with a whole new perspective.  This was my time and I was going to heal on my terms.
So after getting the support and approval from my doctor, my HR Department, my daughter Jenna (this would also be my first Christmas away from her) and her dad….I went home and with the support of some wonderful friends, I started walking and building back my strength as quickly and as carefully as I could.
My biggest fear was packing for a 14 night cruise !!!  How exhausting.   But I had another friend who came over with a suitcase full of clothes – gowns and dresses.    I was so very grateful.  On December 22nd, 5 weeks post surgery, I boarded the plane for Abu Dhabi.
After 22 hours of travel- and I will admit it was a little tough – I arrived in Abu Dhabi at 6:00am.   Mario arranged for a driver to pick me up at the airport.   He texted me saying, "I asked the driver to stop at the Mosque.  I would hate for you not to have an opportunity to see it on your way back.  You need to see it."
So this picture was taken an hour after I landed in Abu Dhabi…and the taxi driver said, "You get out and take a selfie."  lol oh ok 🙂 honestly, I love this picture.    I recall that moment looking at this beautiful Mosque and thinking, "Yay, I am here."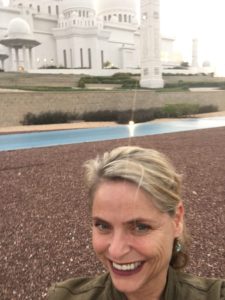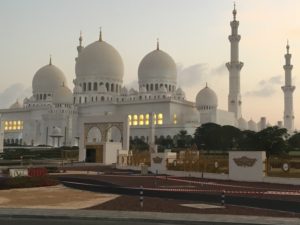 On the second evening, Mario arranged a dinner party with two other couples.  I instantly fell in love with the other staff members "girlfriends" – now wife and fiancé 🙂  Ironically enough, one of the staff members at the table was the ship's doctor lol PHEW just incase I had that bowl obstruction that my doctor warned me about.  He said, "You just never know.  If it's going to happen, it's going to happen within a couple of weeks post surgery."  But here is the thing…"Exactly, you just never know.  So get the extra medical coverage and take the fucking chance !!"   I made a decision long ago to not life my life in fear.  JUST DO IT !!!
There were moments it was not easy.  The travel to Abu Dhabi, via an 8 hour layover in Amsterdam was exhausting.    Having to get in a taxi in Mumbai and really not wanting to have to ask the taxi driver to stop at a bathroom lol remember, I had bowel surgery – I would consciously leave the ship hungry before doing an offshore excursion because everything was still so sensitive in that area.  Occasionally, I would eat my oatmeal in the morning and that was it.  I really had to slowly introduce foods back into my diet.
I rested. I hardly drank – maybe the odd glass of wine.   I was so present in every single moment.  It was the best gift I could have given to myself.
On our last night in Abu Dhabi, there were 4 of us who rented an SUV (doctor and his beautiful fiancé Alina) we all went sand dune-bashing in the Arabian Desert.   So here I was, in the back seat, holding on with both hands – as the SUV went up and down, thinking,"Oh fuck." lol what have I done ?  I started to get a little nervous, I could feel the strain in that area but then thought, I just have to go with it.  AND…it was amazing !!!
Post dinner, we all wanted to try Sand Boarding.  Well, not only was it super challenging to climb up a hill of sand – I had no idea how hard that was – my ass was hanging out of that outfit, the wind was blowing, my abdominal area was sore but I just couldn't stop laughing.  All I wanted to wear was shorts and a t-shirt, but Mario said, "Kathy, you need to wear something exotic.    We are going to be in the Arabian Desert.  Don't you remember the Sex and the City movie ??  How they were dressed." Good lord, so I did lol I will always love this pic because there was just so much going on with that climb.  BUT  I was doing it !!!! 🙂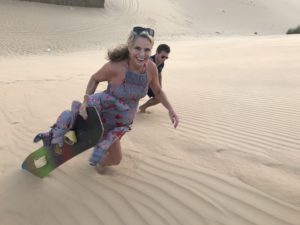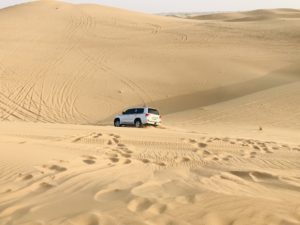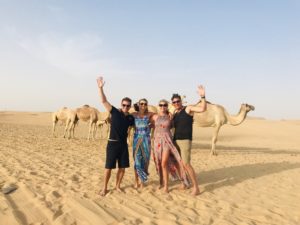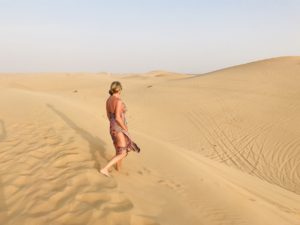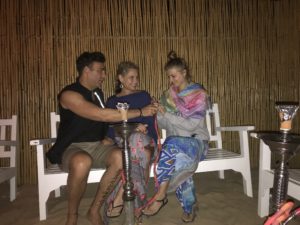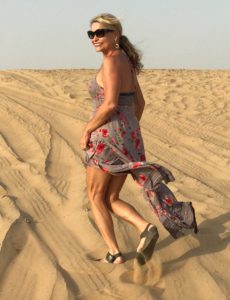 I have so many pictures and stories, however I will simply share some of my highlights.  This picture was taken at the Burj Khalifa.    Tallest building 154 floors.  LOVED it :). We had dinner right at the bottom of this beautiful building.    It was incredible.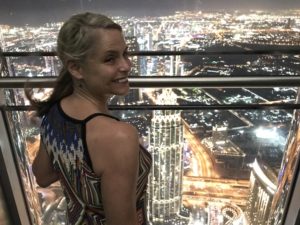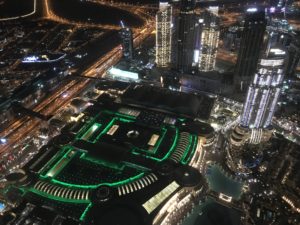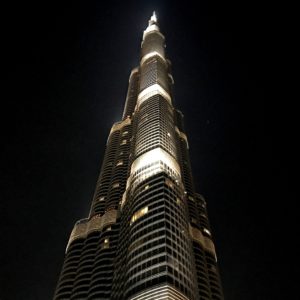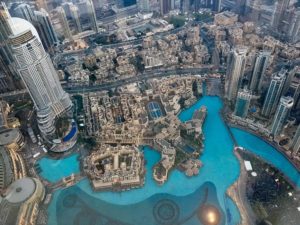 Sir Bani Yas Island…gorgeous, I would love to return one day.  There are roaming giraffes, cheetas and gazelles.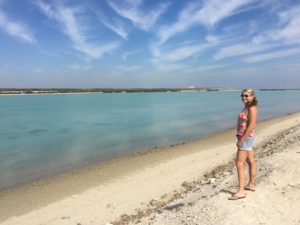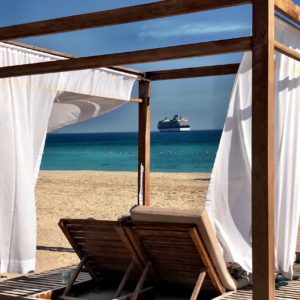 When I was in Mumbais, I got to go into the house where Ghandi lived for 17 years.    It is now a museum with pictures, letters, quotes and such a personal touch.   Picture below I am actually sitting in Ghandi's desk.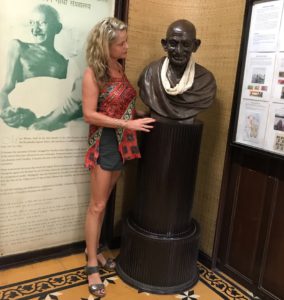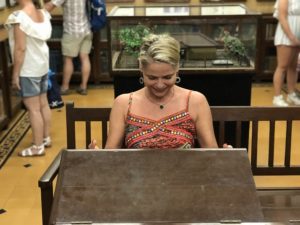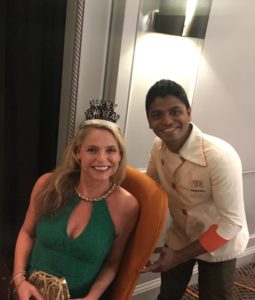 I will let the pictures below tell their own story….all I am going to say is "Oh the people I met along the way."
#conneting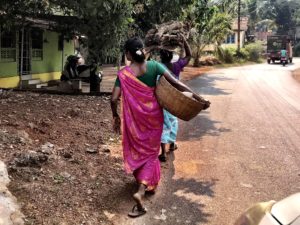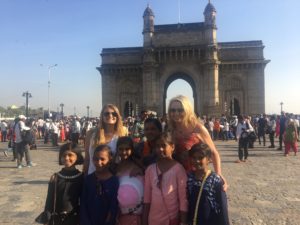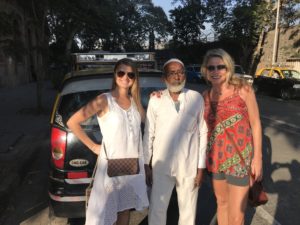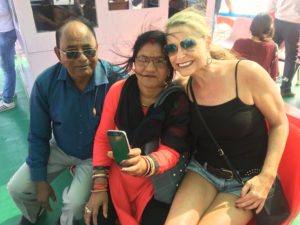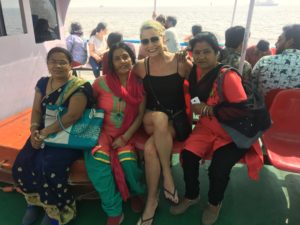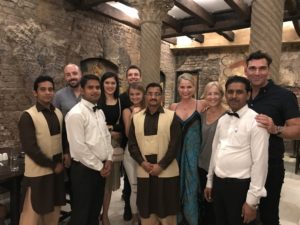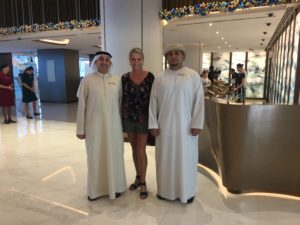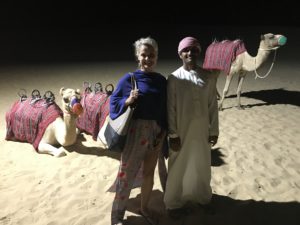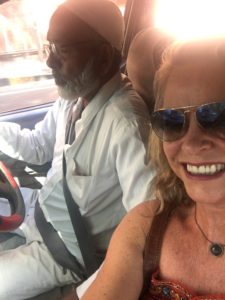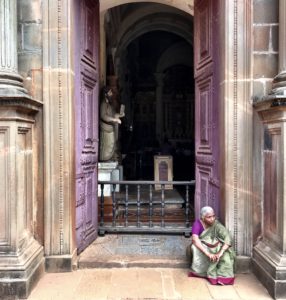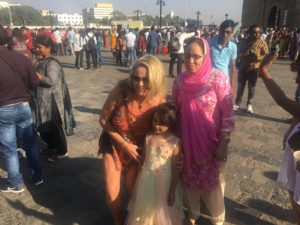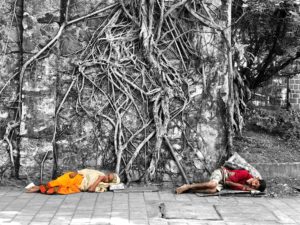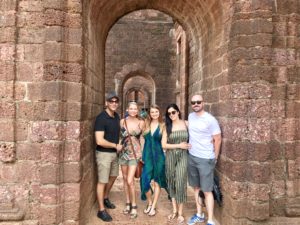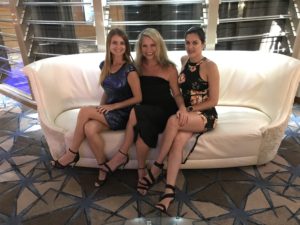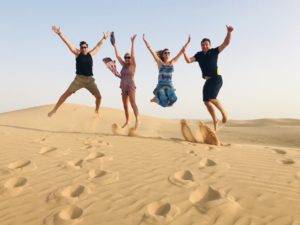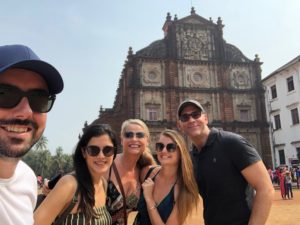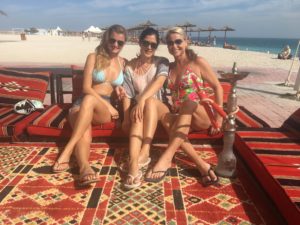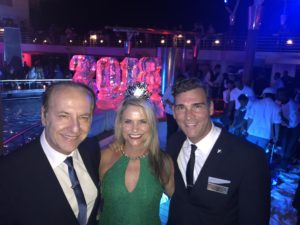 This all took place a year ago.  I have remained medication free for the last year post surgery.   I have had Crohn's disease since I was 24 years old.   I am the 1% who has managed disease without any meds.   But I am embracing it now.  After what the doctor told me,  I made a decision for me, at this stage of my life, to take the damn meds lol what the fuck – who cares ??   If it is going to prevent horrible things happening to my bowels, duh…ok 🙂   He even mentioned how this could be short term.  I am in 🙂  I have zero desire to have another 2 or 3 surgeries pre turning 60.  No thanks.  I have remained healthy for 26 years and I plan on being healthy for the next 30 – 40.
I look at you Karen and I live my life not worrying or stressing about too many things these days.  Thank you for that.
OK I am needing to post this as tomorrow afternoon I am off to Victoria meet Geke to film another Episode for our podcast that will air on December 24th – always a Tuesday 🙂
I am then out to dinner in Vic and staying at The Empress with some girlfriends.
I am going to try to chat with you over the weekend if kids are there –  I hope to hear from them. Don't forget I am coming to Ottawa in June for Carter's graduation.  I am just so in "awe" that you get to see both your kids graduate.   Wow.  Our MSA warrior.
I am excited to share all these pics and stories with you.
I love you sis,
Kathy xo
ps.  There are also a few videos below.  The one of the Burj Khalifa lighting up is incredible.  But I still can't stop laughing at the Sandboarding video omg this is so funny – you can tell I was soooo struggling.  It was not easy post abdominal surgery lol plus the wind and again my ass hanging out lol honestly if circumstances were different, I would have been at the TOP OF THE HILL coming down so fast !!! lol my attempt is so pathetic but I did it !!! 🙂
LOVE YOU KAREN XOXO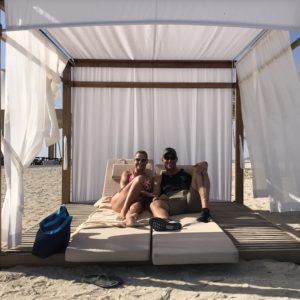 YES…I DID IT !!!!!