I remember….
I remember….
Dear Sis,
Tomorrow is the 29 year anniversary date since dad passed away.   I was 23 years old when he died. Life is certainly moving forward and there is no stopping it.
Karen, I thought I would take some time this evening and share some memories of dad.  He really was one of a kind.
I am also sharing a very personal letter that I wrote to him when I was 23 years old.   They are memories that for me, make me feel so good.  I also know that the people who knew him, knew us, will "feel" this letter and the memories I will share.
If there was one word to describe our dad it was funny.   He had a sense of humour like no one I have ever met before.  We laughed all the time.
I remember…..
He absolutely loved it when I had friends sleep over because he got to cook for all of us.  In the morning he would be on the grill cooking up bacon, pancakes, eggs, waffles ect.  He loved to cook and he loved to entertain.    And always in his Chef's hat.
He looked at our mother in a way that a man should look at his wife.   He often said to me, "I am the luckiest man in the world to be married to such a beautiful lady."
He would always talk to strangers.  Often at my expense.   On a family trip to PEI, Eastern Canada – at an all you could eat lobster fest in a basement of a church –   he got the entire place to sing happy birthday to me BUT he told them I was turning 12.  I was 15.    He loved to embarrass me.   I smiled,  as everyone sang Happy Birthday to me and under my breath I whispered, "I am soooo mad at you !!!!"
Hearing the Expos baseball team playing on the radio, reminds me of dad.    60 Minutes on a Sunday night reminds me of dad.  And knowing he played for the Montreal Alouettes,  football reminds me of dad.
Many summers,  we would drive over an hour, to a farm outside of Ottawa.     The company he worked for, held their "Annual Corn Roast."    As a family, we would arrive in the afternoon and drive home in the dark.    Throughout the day we all ate a ton of corn and dad would drink his Molson Ex and or Labatts.    On the ride home it was always dark.   I sat in the back seat – in between you  and Brian – my head straight up looking at the road.   I would say, "Dad I am watching you.  You are going over the yellow line.  Let mom drive."  And he would always say, "I am just fine, relax."
Within the last couple of years he and mom came out to visit me at Jasper Park Lodge where I worked for two summers.  They met all of my friends.
Post Jasper, when I was flying out of Vancouver – at the age of 20 – to go backpacking for two months to Australia, New Zealand and Fji, h  and mom flew out from Ottawa and came to the airport to meet my friends and see us off at the airport.  He was so nervous that his little girl was going across the world but he was also so excited for me.
My last memory was at the Chateau Whistler resort.    Once again they flew out from Ottawa to come visit me.    We all sat in the Mallard Lounge at the Chateau and he sang out loud while Nate, the pianist at the time, played the piano.    That was in January 1991, he died in April 1991.
Karen, I am going to call you tomorrow and read you these memories.    I also want to share the letter below that I wrote to dad a few months after he passed away.
I am so very grateful for these memories.
I love you sis,
Chat tomorrow.
Kathy xo
July 1991 – I was 23 years old.
I am finally by myself, with no one around me and I am able to write this letter and tell you how much I miss you.
It has been nearly 3 months since you left me and all I feel is emptiness inside when I think about you.  I never thought the day would come when I would have to deal with such a loss.  Most days I try to keep a smile on my face and an attitude of being that strong little girl of yours that you know.  But dad it's really hard at times and I know that no matter how many years pass, it will always be hard.  No matter where I am my mind will start to drift.  I will be at work, all alone and suddenly I will just stop everything I am doing and I picture you walking through the door and I can see you so clearly.  Your face will never leave my mind.
When I was first told by Catherine that you passed away, I did not want to believe it.   I couldn't begin to imagine not having my dad around any more.  You did so much for me my whole life.  Mom would always tell me how crazy you were about me and Uncle Gordie always mentioned that you were non stop talking about me.  Well dad, it went both ways.   Friends of mine whom had never met you couldn't wait for the day to finally meet you.  No matter where I was or what I was doing, I always had a story to tell about you.
Now the stories have stopped and all I have are the wonderful memories.   I hope you realize how much you could make me laugh.  I could be sitting on the bus coming home from school and suddenly smile to myself wanting to laugh because I would be thinking about something you did or said to me that morning.  The two of us were one of a kind.   Many daughters can't say that about herself and her father but I am so proud to ay that's how I feel about you.  I also feel that no matter how hard I try to explain to someone how close the two of us where, no one would understand.  My whole life people said I was a true Samuel who took after her dad and I loved every minute of it.  But only because I loved you so much.
When I was younger I used to think about death and like probably more than 1/2 the world I could never understand it.  I thought for sure by the time I reached 23 I would have some sort of  understanding.   Well you know what dad ? I don't.  This confuses me even more.  How can a family like ours be so close and be told that we are never going to see you again.  My one and only reaction to that is, I don't believe it.   I wish you could come back just one last time and tell me that I'm right.  That there will be a day that I will see you again.  But that is the one thing that keeps me going.  I'm going to hold onto that dream in my heart and it is going to stay in a special place until the day comes that I do see you again.
I know that wherever you are and if you were given the power to watch over me, you are.   I know this may sound selfish but one of the empty spaces that I feel is that you won't be able to be at my wedding.  That has always been so important to me growing up.  I couldn't wait to have you give me away.  You were so proud to be my father and I was so proud to have you as my dad.  I would give the world now if I knew that you could come back and meet the family that I'm going to have.
You made me believe in marriage.  You and mom both.  You showed me how wonderful it can be through the good and the bad.  And for that I thank you.  I really do.  My heart aches for mom every day since you left. Mom is the last person who deserved something like this.  Part of me was angry at you for leaving.  But I knew that deep down inside if you had the choice you wouldn't have chosen it this way.  I will always be thankful for the years that the both of you gave me.  I can only hope and pray that one day I will be able to return all the love that you gave me to a family of my own.  How many people can say that they want a marriage and a family exactly like the one they grew up in.   No changes.   Well I can.  I've always said that to my friends and not one has ever said, "Me too."
Dad I am going to keep this letter and I will re-read it many time in my life.  But no matter how hard I try I will never be able to fully express on paper or in words how much you meant to me, how much you made me laugh, how close we were, the love of life that you carried inside and also share with other people and how much I loved you you and still do.   But those are all good and happy feelings.  The only sad feeling that will always stay inside of me is an emptiness knowing that you are not with me anymore.  I miss you and love you so much dad !!
Love Kathy xo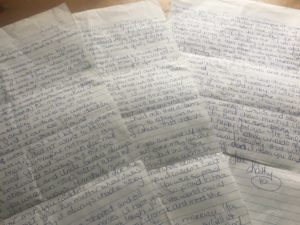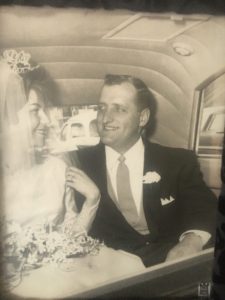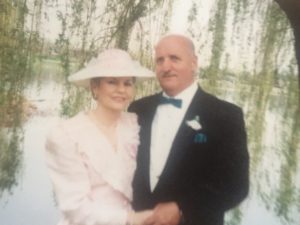 Below, you can see my father's personality.  He lived in Saudi Arabia for a period of time and he always enjoyed wearing this traditional attire.   Especially when answering the door when a friend would come pick me up.  Seriously.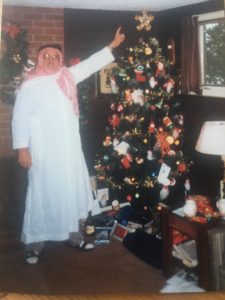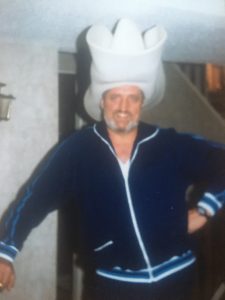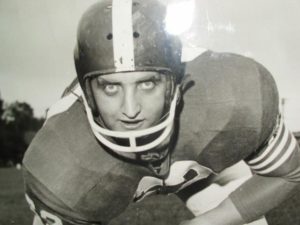 ps.  CONGRATULATIONS TO OUR BROTHER BRIAN!!!!
Karen tomorrow is also 26 years of our baby brother being a Police officer, now Staff Sergeant.    I know how proud you are of him Karen.   We love our bro.  He's the best xo
Way to go Brian – thanks for all you do xoxoxo