Episode 1, Season 2, dedicated to you sis….
Episode 1, Season 2, dedicated to you sis….
Dear sis,
Jayka and I just started up our Podcast again, Two Pals in a Pod.     I decided to post Episode 1, of Season 2, into this blog.
Karen, because I am tagging Jayka in this post, there will be friends of hers reading this, who don't know who you are.  I will just say a few words to let people know.
"My blogs are written for my sister Karen, who lives in Ottawa, Ontario (Canada).     19 years ago she was diagnosed with a neurodegenerative disease called, Multiple System Atrophy.    For the last 10 years, she has been living in St. Vincent's Hospital.   Karen is 55 years old and is someone who has always loved life.   When she lived at home, she had an open door policy, where family, friends and neighbours were always welcome for a drink, an appetizer, dinner….and she always lent an ear for those who needed someone to talk to.  My sister can no longer talk, eat or move.   She communicates via blinking with her eyes.  She inspires me every single day."
In January 2021, it will be 3 years since I started writing stories to my sis.     I live out West – on Vancouver Island – and as often as I can,  I fly home to Ottawa.    Over the years, there have been friends, family and myself, reading her my blogs.  I stopped writing when COVID came into our lives.   Plus it was the summer and I was pretty busy with my daughter and holidays.
Karen, as you know, it is just so heartbreaking for so many of us because there are no visitors allowed.     The only way I can communicate with you is through a weekly FaceTime call.   Amanda – one of the Unit Support Workers at the hospital – has assisted with these calls.  I pretty much just talk and talk for 30 minutes – I can't even imagine what you must be thinking in your head – SHUT THE FUCK UP SIS lol you wouldn't dare think that would you ???  hahaha yes you would xo
When I mentioned to Amanda the thought of her possibly reading my blogs to you – one more way to try to keep you "entertained" – she very kindly said she yes.    However, she did mentioned that I would need to reach out to the Volunteer office.  When I e-mailed their address,  I was a little concerned (sad) when I received the response that they are quite swamped.    Of course this is understandable as they are trying to accommodate many family calls.   However a few days later they responded saying they spoke with Amanda and YES she would be reading to you each week on a Monday or Tuesday.
Today, when I logged on to my site I received these two messages under the last two blogs….
Hi Kathy,
This is Amanda, the Unit Support Worker from SVH, just letting you know that Karen is getting these blogs read to her.  She seems to love it !!!
Hi Kathy
This is Amanda, the Unit Support Worker from SVH.  This one made me tear up, glad to know Karen has such a loving and caring sister by her side.
If there is anyone out there who has someone they love, living in a hospital or a long term care home, you know how amazing it would feel to get these messages.    Thank you Amanda !!! xo
Sis, I decided last minute to put this Episode in this blog.    I didn't even give a shout out to you this time sorry !!!!   But hey I am dedicating a whole blog to you 🙂 I know you have heard some of the Podcasts before but I don't know if you have ever really "seen" any of them as we only started making videos when COVID hit.   Prior to, it was all audio.    Karen, I know you will remember Jayka, my Podcast Pal.  She was my roommate at Jasper Lodge Lodge when I was 20 years old.
Amanda, this Episode is just over 30 minutes (we really want to try to keep them between 20 -25 min but we just can't help ourselves)  I know you only have so much time (it's not all about us Karen hahaha ) but Amanda maybe you can just put the IPAD in front of her and press play so she can watch it and you can leave and go care for others….?  Just a thought 🙂
Now sis, I know you are wanting "smut" because you are are that kind of lady!!!    We do have some past episodes with more talk about sex, men, dating, affairs, BUT this was our first Episode of Season 2 and I have to tell you – IT'S NOT EASY !!!!  There are so many "topics" I want to discuss – plus I felt quite nervous – and it is challenging to pull it all together.   But this was our first one of the season.
It is interesting to me because I hardly ever re-read my blogs.  Yes of course as I am writing them I do but once posted, I just can't go back to read.  It makes me feel weird.  With this Podcast, I did watch it a few times. I just wasn't sure about it.   I had all sorts of comments going through my head.   I was over analyzing it.   Which is interesting to me.   Yes there are the small details that I noticed such as my bracelet (a leather piece) flapping around on my right arm – it was not done up –  my sound was not all that great (next Episode I will use my mic) and my boobs looked really big in this video 🙂 and trust me, they are not.  I was wearing a kick ass padded bra that I never wear.   I could not find my everyday bra that morning.  Hey just being real and I also don't want to be false advertising 🙂
Enjoy Karen…so happy to have you with me xo
I added a few pics below the video.
I love you sis,
Kathy xo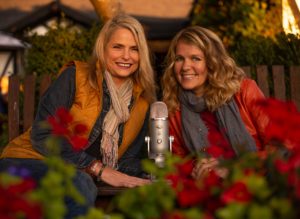 ps.
This first picture below was taken 32 year ago at Jasper Park Lodge located in the Canadian Rockies.  Jayka and I met for the first time and we were roommates.   Last summer, when I was on holidays with my daughter, I returned to the Lodge.   Since Jayka is only living a hour away, she drove out to meet us one afternoon.   We decided to recreate the picture below outside of room # 23 in B Cabin xo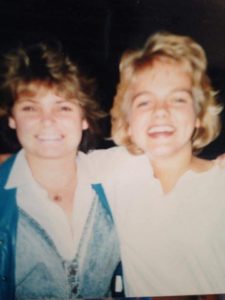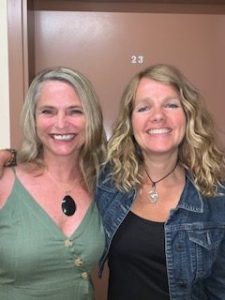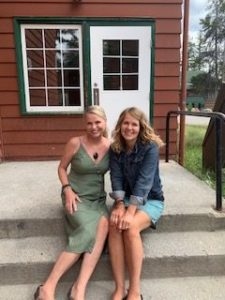 And….
just a few pics that I am re sharing for all those visiting my site for the first time…..meet my sister Karen xo