Happy New Year !!!
Happy New Year !!!
Dear sis,
Wow – it is 2020 !!    Being born in the 60's takes on a whole new meaning 🙂  I was scrolling down something the other day to get to my age and it kept going and going lol
This is going to be a powerful year for so many.  I feel it.  I know many of us do.  Double digits, new decade.  Did you also know that Angel number 2020 is an assurance that the Angels are ready to support you in life ?  This makes me so happy because we have a lot of Angels up there. This number also appears when one needs to create a sense of calmness in their life.  Everything about this year lines up  exactly where I am at.
Sis, we made it.  We are in our 50's.    The world is changing and evolving.   I have mentioned the "shift" before but now it feels stronger than ever.   So many of us can feel it.   Maybe because in our horizon, we see how death is getting closer.
But I choose not to look at the end.   In my horizon I do not see death or aging.  In my horizon I see life.  I see living, dancing, loving, feeling, laughing and so much joy.   I see sunsets and feel warm air.    My life is about connecting with people.   Feeling compassion for myself and all other humans.    We all suffer.   Let's open our hearts.
Last October, was my 9th year of being "on my own".    I am now entering my 10th year which has a huge personal significance for me.   Over the years, I worked through some insecurities that I had entrenched in me.   Being single made me uncomfortable in my own skin.
Karen, as you know, I wear mom's beautiful wedding ring.    Nine years ago, when I would attend a reception or an event,  as I walked into the room, I would discreetly slide the ring off and place it on my wedding finger.    I still look back at that time and think, wow, imagine feeling that way.   Here I was placing a ring on my finger, to have a certain societal "status" and not being true to myself at all.   What a young Kathy I was 🙂    Now I stand on a mountain and yell, "I am so fucking single and I love it !!!!"
Another fear I faced – with being on my own – was a financial fear.    I felt a little trepidation in the first couple of years.   Even though I make a good salary, own my own home, I had to transition from a 2 household income – that I had for 20 years – to 1.     Here is my advice – just do it !!    You may have to "alter" a few things in your life….or not 🙂  For me, I have LIVED so much over these last nine years (and always) 5 cruises, Bali, New Orleans x 2, Maui x 3 ect ect ect.   I am living my life because I let go of so many fears.  When you trust and believe, it always works out xo
Living your life in fear is a very low vibration.    Always work towards raising your vibration.  Karen, I think about the fear you had when you were told you had this disease.   You were  so scared about what would start happening to you physically.   But now Karen,  when I look at you,  I see more peace in your eyes today then in the past years.  I love that you love to live xo
Jenna is going to be 15 this summer.   She is truly an amazing girl.   I registered this summer for a program in Spain.   Two weeks.  It is comparable to a summer camp.  She will get paired up with a young Spanish girl her age.  It is all about her teaching English to this young girl.   We are at "step 3", very much hoping she gets selected as this will be a life changer – so excited for her !!
Our kids our getting older Karen.  It is amazing how you are watching both your kids grow up.  We did not think you were going to make it to Samantha's 16th birthday and now she just turned 20.  AND Carter is graduating this Spring.   Looking forward to being there to support him (and see you).
I am so very grateful, that I have had these last years with just Jenna.   At the beginning of those years I thought, "Well I will just meet someone in Vancouver and move back to the mainland. There is no way I am staying in Nanaimo."  But staying here, on the Island, was the perfect choice for us.
I am getting closer to a new and different sense of freedom.    I say new and different because I do have a wonderful sense of freedom in my life today.  However a new chapter is approaching.    Jenna will often comment, "You are going to leave as soon as I graduate aren't you?!!"  I laugh and say," Oh that's not true sweetie, I am going to leave as soon as you get your drivers licence."  Of course I am semi-kidding wink wink but there is some truth in this.
Karen, it doesn't matter where I live when it comes to you.   I will always feel you with me.  I really do.   Brian has his own family.  And as you know, we don't have aging parents to look after.   So the world really is my oyster – again 🙂
There are always endless possibilities.  So many people are looking at living a TRUE life.   So many people are retiring, adjusting their life by becoming minimalists  and doing more in their days/months/years to find true passion.    Many of us are done or almost done "raising" kids.  Jenna will soon have a life on her own….and I too will have a brand new chapter in my life.
I am now moving forward with different energy and I can feel all the possibilities that keep presenting themselves.
When it comes to men, I still prefer meeting them organically.   I am someone who is all about connection so I would rather feel the dynamic with someone first.
Last year, I met this man on a plane.  He was in his early 60's, a very successful business man.   He had a quiet yet powerful sense of self and confidence to him.     We talked for hours.    In the end he asked if he could fly me to his acres of land and ride his horses together.     I recall saying to him, "We met for a reason.   You and I have two very different lives.  I am going to walk away and just be so grateful that we met." As I went to leave he said, "I am going to find you again one day Kathy Samuel." And as I walked off into the sunset lol ok not really but I did walk off the plane and left him behind.
For me, it was such a feeling of empowerment.   I have always been that girl who falls in love with love.  However for me now, it is falling in love with that person.  Not the "dream" of being with that person.   It's connecting with someone whom I am aligned with.  Someone who has a strong sense of self.    Someone who wants adventure.  Someone whom is ready to take chances in life.   Because as we know….
"In the end we only regret the chances we didn't take."
The New Year is a time when I reflect.    It is a time when I ask myself, "How do I see my future.   What is it that I want out of this life.  What is truly important to me. What fuels me."  These are questions that we should all be asking ourselves.   Now is the time.
I love you sis,
Kathy xo
PS.  Karen I will have more info for you this week – or I will call you tomorrow afternoon – however I have my first Board of Director's meeting tomorrow relating to Multiple System Atrophy (MSA) and MSACANADA.CA.   Philip Fortier,  who is the Director for Defeat MSA and HUGE in bringing awareness to MSA has created a Global On Support and Brain Research Hub.   The Brain Hub is designed as a way for patients and caregivers to build support groups and to connect with vital research opportunities.  It is truly amazing Karen.   He also has the support of several TOP Neurologists.   More research and more awareness  is happening right now with MSA.  Yay xoxo
PPS. Below are some pictures and a couple of videos from over the holiday season.    I didn't get many but wow, I so enjoyed myself.  I saw so many wonderful friends and relatives.     Loved every minute xo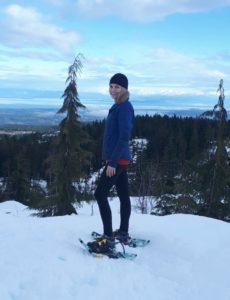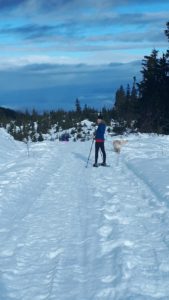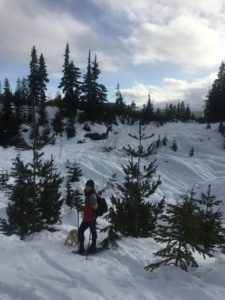 Only a few of my beautiful friends I hung out with this holiday season…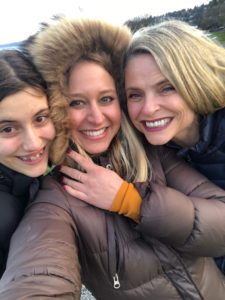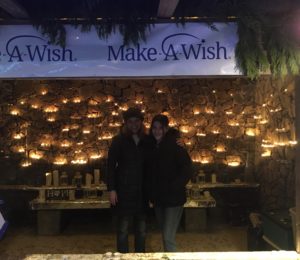 Michelle was my date for my annual Christmas party and she was my New Year's Eve date !!!   I would stand on the top of a mountain and tell that to the world !!! xo
#ihavethebestgirfriendsagirlcouldeveraskfor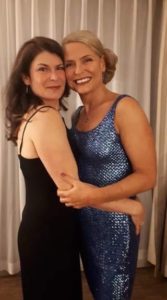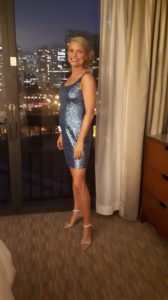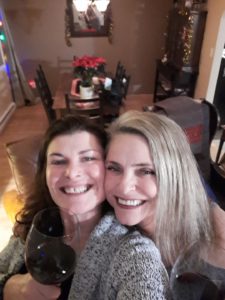 Karen, singing in the car ALWAYS reminds me of you !!!!!!  You always sang in the car AND made up your own words…like me 🙂 xo
A very spontaneous – heartfelt message.  I was just so in the moment that I didn't even think for 3 seconds what I wanted to say.  I was a little shy at first to post this – as it was not scripted or thought out – but then I thought, "What the hell. Isn't life about being real???!!"
#keepitreal